Microsoft has commenced a series of blog posts on the fundamentals of its upcoming Windows 8 OS - beginning with the attention it's paying to delivering faster boot times.
The new solution to reducing boot times, represents a fusion of the traditional cold boot process, and resuming from hibernate. Currently, in a traditional shutdown, all user sessions and kernel sessions (services, devices e.t.c) are closed, resulting in a complete shutdown. With Windows 8, whilst all user sessions will be closed, the kernel session will be hibernated - and upon system boot - Microsoft claims that this will deliver an improvement of between 30 and 70 per cent in boot times.

Hibernating the kernel session lends a hand to ensuring that the system is doing less work than during a full system boot, and multi-phase resume capability means that all CPU cores - in a multi-core system - will work in parallel to read and decompress the contents of the hibernation file.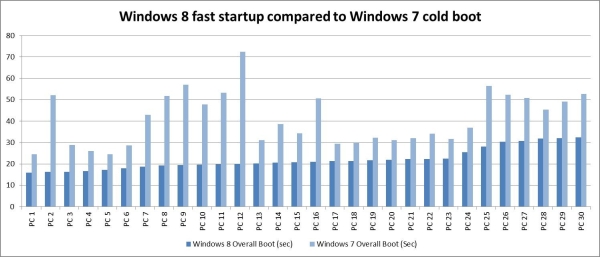 Users will still have the opportunity to revert back to a traditional shutdown/boot process, should they choose, and whilst we're told that the benefits of the initiative will be enjoyed by HDD-based systems, the company calls the experience with faster SSDs, 'downright amazing'.