There are lies, damn lies and statistics, so how does this one grab you on Monday morning.
The folk over at Pingdom have got hold of some data from StatCounter which suggests that Windows 7 is now the most popular desktop operating system in the United States.
StatCounter takes in three million websites and reckons that 7 now commands 31.71 per cent of the market, compared with 31.56 per cent for venerable XP.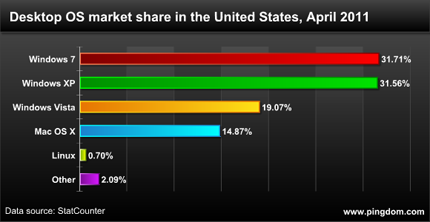 Image credit: pingdom.com
Just as interesting, if stats get you hot, is Mac OS X's share, which equates to almost half that of Windows 7.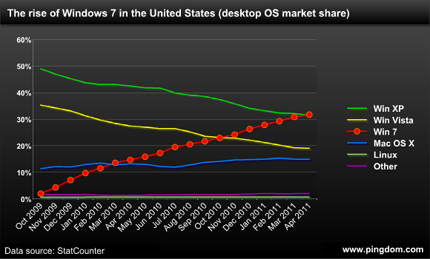 The rise and rise of Windows 7 is charted in the above picture. There's been an inexorable march towards the top of the operating system charts, and it shows little signs of abating. We suppose it's inevitable when the OS is bundled with the majority of new PCs and notebooks.
But really, the stats show that Microsoft's newest desktop operating system has taken share from XP and Vista, rather than pull it away from Apple's Mac OS X.
Windows 7's hegemony is also observed in other developed countries, most notably in Europe, though XP's global footprint is much larger, the report says, as it comes in at 46.9 per cent vs. 7's 31.2 per cent.
Are you still using XP or Vista? Have you been seduced by Mac OS X? Let us know in the forums.