Nothing to lose
Pretty much all PC users are aware of AVG due to its free antivirus software. The 'give it away then hope people will pay for an upgrade' model is a long-established one, but AVG seems to be one of the more accomplished freeware practitioners.
AVG has already moved into free Android antivirus software and today announced its further diversification into cloud storage and backup, once more on the freeware model.
It's called LiveKive, which is some kind of convolution of 'life archive' apparently. The proposition is simple: you get 5GB for free, and you can upgrade to 25GB for £35 per year, 50GB for £40 and unlimited (subject to fair usage) for £55.
We decided to take the plunge and can confirm that, like most other AVG freeware we've encountered, the download, account creation and installation process was pretty straightforward. You have to install a piece of local software, which manages what you backup to the cloud. It doesn't take long to get to 5GB, but then that's the point of the business model.
The only oddness we noted, as you can see from the screenshot below, is the bit that says 'Available Stores: 2GB', when everywhere else we're told we have 5GB. We ran this past AVG and they seemed as perplexed as we were and promised to look into it.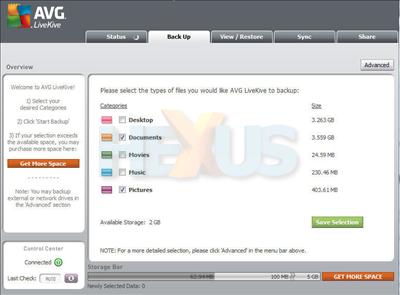 "Our customers have told us that they know how important it is to backup their vital data including photos, videos and music, but they've also told us that they find it to be a chore," said Stephen Simpson, global head of consumer propositions at AVG.
"AVG LiveKive's 'set and forget' feature means that consumers can have peace of mind when it comes to their valuable data. By utilizing AVG LiveKive, their important data on our secure servers can be easily recovered in the event their computers are damaged, lost or stolen."
"The ability to access your files from any PC, Mac or even your iPhone or Android device, is where AVG LiveKive truly demonstrates its power over more traditional backup methods such as external hard drives. The ability to share large files securely through AVG LiveKive's Share rooms feature also enables users to overcome another obstacle when it comes to sharing files that are simply too big to send via email."