Traditionally, Microsoft hasn't been a company that you'd associate with web standards, but over the last year or so, the software-giant has had a renewed focus on strictly adhering to specifications. This was clear from the emphasis on interoperability in Internet Explorer 9 and now the company has announced a resource to help developers get to grips with some new parts of the HTML5 spec.
HTML5 Labs will host tools, resources and example code for new parts of the HTML5 standard that are classified as either unstable or experimental. The idea is that Microsoft will publish prototype APIs that its own developers have worked on, allowing other devs to test, experiment and play with the burgeoning standards. With any luck, these contributions will help to improve the final spec, making it more useful to those that need it.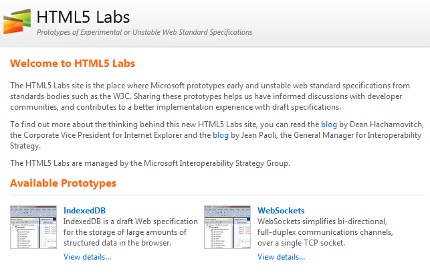 According to Jean Paoli, GM of Interoperability Strategy at Microsoft, "these prototypes will help us have informed discussions with developer communities, and give implementation experience with the draft specifications that will generate feedback to improve the eventual standards". He added that the Labs will allow "a larger audience can get a better sense of what potential will be unlocked when these specifications have stabilized into interoperable implemented standards".
The first two prototypes are IndexedDB and WebSockets, which were apparently chosen because they are currently unstable, but show a great deal of promise for the future. Obviously the included code is still under review, but the developers have committed to update it as the specification develops and matures.
Along the same lines, Microsoft also announced a plug-in for Firefox this week that will enable H.264 support for HTML5 video viewed in Firefox on Windows systems. The unusual move has also been grouped under the umbrella target of universal interoperability on the web.