It may only be a few days until Microsoft releases the Internet Explorer 9 beta, but that won't stop it from talking-up the new browser. In a blog post, Program Manager Lead Ted Johnson went into detail about what the upcoming software can do when it comes to hardware acceleration - and what the competition can't.
In brief, Johnson explained that there are three distinct components to rendering a web page: content rendering, page composition and desktop composition. With the latter taken care of by Windows, it falls to the browser to take care of the other two.
Apparently, IE9 uses Direct2D and Direct 3D to take care of the content and page elements, respectively, significantly speeding-up rendering. Johnson calls this 'full acceleration' and claimed that only Internet Explorer was capable of delivering it. Supposedly, competitors only use graphics hardware for one of these jobs, offering only 'partial' acceleration. This allows Microsoft's browser to provide consistently-high performance, whereas the alternatives will falter on some tests.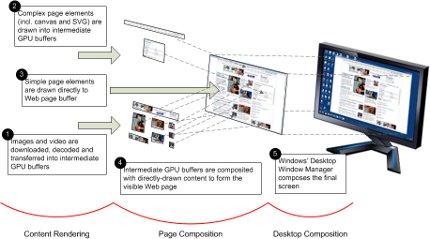 Of course, the folks over at Mozilla didn't let this go unanswered. Developer Robert O'Callahan shot back at Microsoft, claiming that Firefox 4 can - at least in Windows - use Direct2D to "fully" accelerate page rendering, albeit with an extra abstraction-layer.
He also claimed that Mozilla's method didn't hurt performance, though he made sure to add that Chrome suffered from exactly the problems described. Since there is no viable D2D equivalent outside of Windows, the comments could also be levelled against Firefox on other platforms, which are forced to rely on OpenGL.
For now, it all seems like marketing posturing. However, after Wednesday's press-event, we'll finally be able to put IE9 through its paces and see whether Microsoft's claims hold-up.