With Google and Mozilla releasing new beta versions of their respective browsers this week, Microsoft may have been feeling a little left out. However, the software-giant had a little announcement of its own to make yesterday, as the company revealed the release date for the first public beta of Internet Explorer 9 - September 15.
The release will be accompanied by a launch event in San Francisco entitled 'Beauty of the Web'. Considering that the development team has, thus far, been pretty cagey on the specifics of IE9's redesigned interface, we're guessing that the browser's new look will be a focus of the get together. The UI has even been stripped-away from the development releases that Microsoft has been previewing in an effort to keep it secret.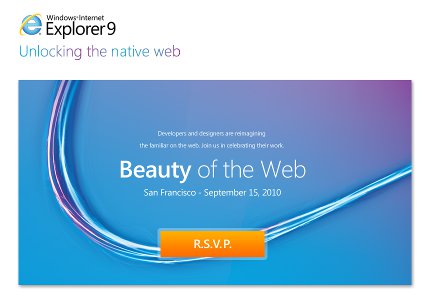 Of course, the release date of the beta isn't too surprising. COO Kevin Turner let slip at the company's Financial Analyst Meeting that the public launch would happen in September.
As well as a massive speed boost over IE8, the latest version of Internet Explorer will bring a host of new features. These include a brand new JavaScript engine that supports GPU acceleration, support for HTML5 and CSS3 and compatibility with the WebM video standard.
Interestingly, according to The Register, Microsoft believes that the beta will be stable and usable enough for the general public to use, should they want to, not just the more advanced users. For this reason, the company isn't releasing the beta to its Developer Network members prior to the public release, as is often the case with the company's new software.