Microsoft has never really pushed its Zune branding for digital music in the UK, but with the upcoming launch of Windows Phone 7, that could all be about to change. There's now a (currently non-working) subscription page, complete with UK pricing, for the Zune Pass unlimited music service.

Zune Pass launched in the US alongside the Zune MP3 players and offered an alternative to the more common 'pay-per-download' services like iTunes. For a flat monthly fee, users get to download unlimited amounts of music from the entire Zune back-catalogue. These songs are DRM-restricted, but can be used on up to three computers and three Zune devices. As long as the subscription remains paid-up and active, the music can be listened to an unlimited number of times. On top of this, each subscriber gets to choose 10 songs each month to keep as DRM-free MP3s for no extra fee.

However, the service was never launched in the UK. With the release of the Windows Phone 7 platform just around the corner, though, Microsoft is taking the opportunity to extend the reach of its media service. The mobile OS uses the Zune branding and interface for its media capabilities, so having the Zune Pass service to complement it makes sense.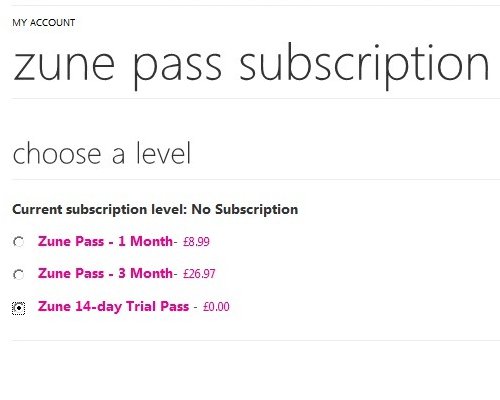 The screen-grab points to £8.99 for a one-month subscription and £26.97 for three months (hardly a discount - Ed), as well as the option of a 14-day free trial of the service.