TV plus
As TVs increasingly become Internet connected it has become possible to access Internet TV through the same interface as conventional broadcast mechanisms. At CES 2010 we met with leading EPG (electronic programme guide) provider Rovi (formerly Macrovision), and got a walkthough of what we might be seeing on our TVs in the near future.
Rovi's business model is to sell its EPG to TV makers, like Sony, Samsung and Panasonic and also to provide content metadata, which allows content to be tagged and cross referenced. In addition, Rovi does deals with content providers, like Sky and Demand Five in the UK, in order to offer up their content on its EPG.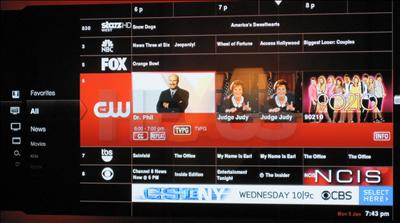 Called TotalGuide, the EPG has been developed on Adobe Flash in order to make is compatible with Intel's Canmore platform (as well, presumably, as Sodaville and SoC's based on IP from the likes of Imagination Technologies and Broadcom). It can also display content from other DNLA certified devices, such as NAS boxes, and offers premium listings to partners.
The social recommendation engine, produced in partnership with Flixster, stores user information locally in order to anticipate the type of content the user is most likely to want. We can expect to see TVs sporting TotalGuide by the end of the year.