Parallels has today launched the latest version of its Windows-on-Mac virtualisation software, Parallels Desktop 5 for Mac.
The release claims to perform "22 per cent faster than the nearest Windows-on-Mac competitor", unsurprisingly suggesting that Parallels' solution is superior to VMware Fusion 3, launched this time last week.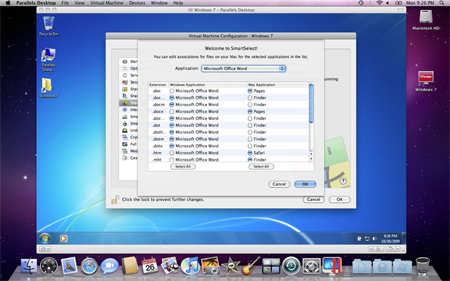 Like VMware Fusion 3, Parallels Desktop 5 introduces full support for Windows Aero and Flip 3D, on either 32-bit or 64-bit versions of Windows 7. There's also support for DirectX 9 and OpenGL 2.1, with Parallels claiming "seven times better graphic performance for games and 3D applications".
Amid some 70 new features, a new "Crystal view mode" aims to make Windows applications look more Mac-like, with full support for trackpad gestures such as pinch, swipe and rotate.
Parallels Desktop 5 for Mac is available now priced at £59.99. Cunningly, users of VMWare Fusion 2 are able to upgrade to Parallels' latest release at a discounted fee.
Official press release: Parallels Desktop 5 for Mac Offers Fastest Performance on Snow Leopard and for Windows 7 Available