Microsoft's Windows Live team has announced today that the first complete release of Windows Live Movie Maker is now available to download as part of the free Windows Live Essentials suite.
Windows Live Movie Maker, designed as a replacement for the Windows Movie Maker bundled with Microsoft's Vista operating system, first arrived in beta form as part of the Windows Live Wave 3 release in September 2008. The all-new final release revamps the software with much improved functionality and an interface optimised for Windows 7.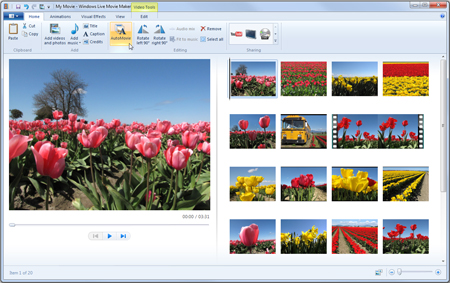 Microsoft has described the software as "the one-minute way to turn photos and videos into great-looking movies that are easy to share - for free," and the release will be seen as a head-on competitor to the iMovie application bundled with all new Apple Mac computers.
Windows Live Movie Maker - available to Windows Vista and Windows 7 users only - hopes to capture a share of the web-based video-sharing phenomenon, and includes built-in uploading to popular services such as YouTube.
What's useful is that the software supports a wide range of video/audio formats, with Windows 7 users receiving added support for previously incompatible formats such as QuickTime .mov and .qt, AVCHD and MPEG-4.
The software's key features are being demonstrated at moviemakerpreview.com, and the entire Windows Live Essentials suite is available to download at get.live.com.