Microsoft is continuing in its attempt to change the consumer's opinion of both itself and its Windows operating system. At the forefront of that challenge is Microsoft's engineering Windows 7 blog.
Launched back in August '08, the blog - headed by Windows 7's senior engineering managers Jon DeVaan and Steven Sinofsky - aims to help shape a customer-communicated product. Continuing on that promise, the latest blog post details some of the changes that are being made to Windows 7 in response to customer feedback received via the public beta.
In addition to numerous under-the-hood changes, Microsoft senior program manager Chaitanya Sareen details 36 changes that will alter the core user experience in the upcoming Windows 7 release candidate. Here are some that have caught our eye:
Windows Flip (ALT + TAB) with Aero Peek
"We've received overwhelmingly positive feedback about Aero Peek and how it helps customers switch windows with increased confidence. Daniel wrote to tell us "I'm wondering why Peek was never implemented for the ALT + TAB window. The thumbnails look/behave the same way as the taskbar thumbnails when you hover the mouse over them. It seems logical that they would exhibit the peek behaviour, too". We decided to make this change since we heard many requests for it. One can still quickly flip between and cycle through running windows using the ALT+TAB keys, but when more window information is needed Aero Peek will appear.  This is triggered by a time delay as you pause while keyboarding through running windows."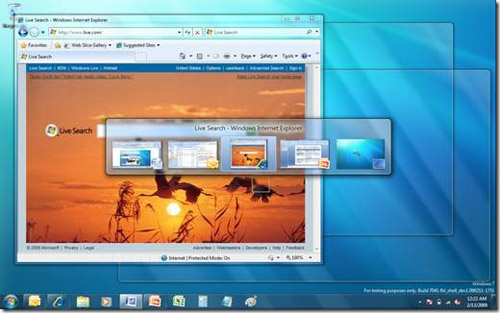 Aero Peek for touch
"We're excited about Peek and we further refined its functionality. Our touch customers enjoy the benefits of direct manipulation, but inform us they feel left out of some of new functionality that's available for the mouse and keyboard. We've made two improvements that spreads the love. First, the taskbar's thumbnails now support a touch gesture so one can drag her finger across the UI and trigger Aero Peek. Also, the Show Desktop button is improved so a press-and-hold will allow the customer to peek at the desktop. A regular tap in both these scenarios still to commits the switch."
Multi-touch touch keyboard
"A funny thing happens when one uses touch to interact with a software keyboard for the first time. The natural instinct is to press multiple buttons simultaneously like they do with a real keyboard. It's quite reasonable to try to use SHIFT + <letter> to capitalise, for example. RC ushers in multi-touch support for the Touch Keyboard so that customers enjoy a more realistic experience."
Improved playback support for video content from digital camcorders and cameras
"Customers loved the increased range of formats natively supported by the Windows 7 Beta, but noticed areas where they wanted broader support.  For example, one was unable to seek to a specific spot in the video in Windows Media Player or Windows Media Center for AVCHD content that was imported from a digital camcorder. We've addressed this.  Also, while the support for video from some digital cameras worked great, we also got feedback about supporting a broader set of devices out of the box.  We've since added support for Windows Media Player to natively support the .MOV files used to capture video for many common digital cameras."
It's encouraging to see Microsoft publicly display specific user feedback, and its own response. Despite the seemingly-positive progress, however, there are still hundreds of user-requested alterations detailed on the community-run Windows 7 Taskforce website.
Still, one improvement at a time. To read about all 36 changes expected to be delivered in the Windows 7 release candidate, head on over to the Engineering 7 blog.