Windows 10 has finally reached a key milestone in its adoption: overtaking Windows 7 as the most popular desktop OS worldwide. According to Statcounter (via VentureBeat), Windows 10 caught up with Windows 7 in December and finally edged ahead in January 2018. Its most recent figures say that Windows 10 started the year with 42.78 per cent Windows version usage share (up 1.09 points from 41.69 per cent), while Windows 7 fell to 41.86 per cent (down 0.03 points from 41.89 per cent).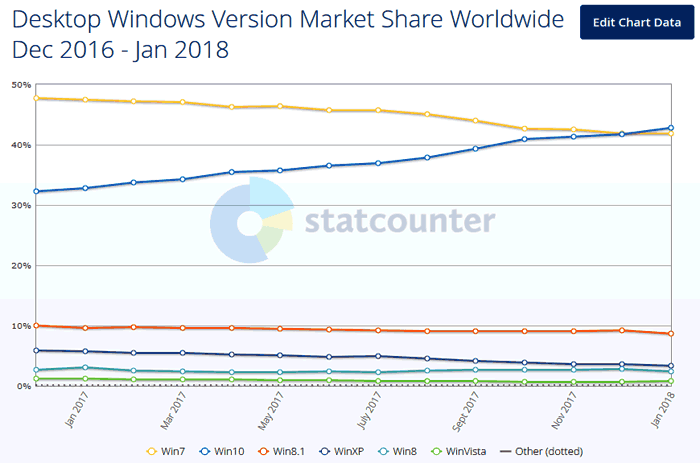 The chart above is of Windows market share, it doesn't chart all desktop OSes.
At launch, Windows 10 adoption was very strong. In the first four weeks of availability it was installed on 75 million+ PCs. In less than six months that figure had surpassed 200 million, and reached half a billion by 21 months since launch. However, we must remember that Microsoft marketed Windows 10 rather differently than its prior OSes. Most significantly, it benefitted from a long period offering free updates to various older OS users – a promo that has only just ended.
Of course StatCounter figures aren't definitive. StatCounter collects data from those browsing sites using its plugins / code. About 10 billion pageviews per month across 2 million websites are tallied by StatCounter. Even with such a big sample size its figures don't correspond very closely to rival NetMarketShare.
Considering UK Windows market share, it is interesting to note that the big crossover, where Windows 10 edged past Windows 7 in popularity, occurred much earlier and more decisively – between May and June 2016. Furthermore, Windows 10 has long been the most popular OS with gamers, according to Steam Hardware and Software Survey data. The modern Microsoft OS passed 50 per cent adoption on the games distribution platform back in December 2016.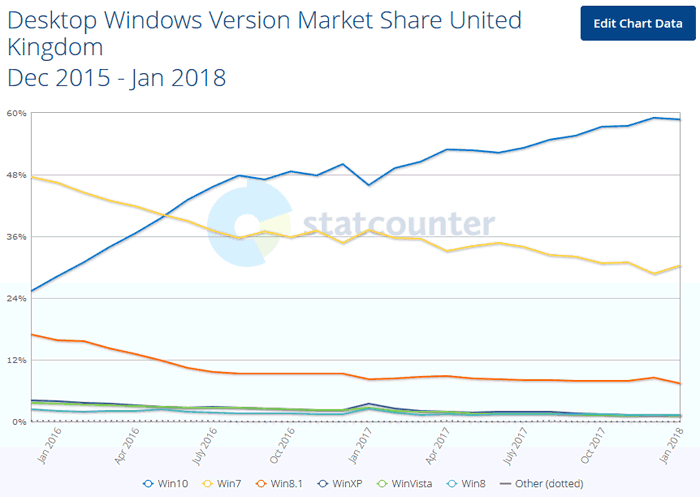 UK chart