PC enthusiast component specialist Corsair has announced its fastest ever 128GB, 64GB and 32GB DDR4 Kits. These are the part of the Vengeance LPX DDR4 range of kits and boast headline frequencies up to 3,600MHz plus Intel XMP 2.0 compatibility for easy overclocking.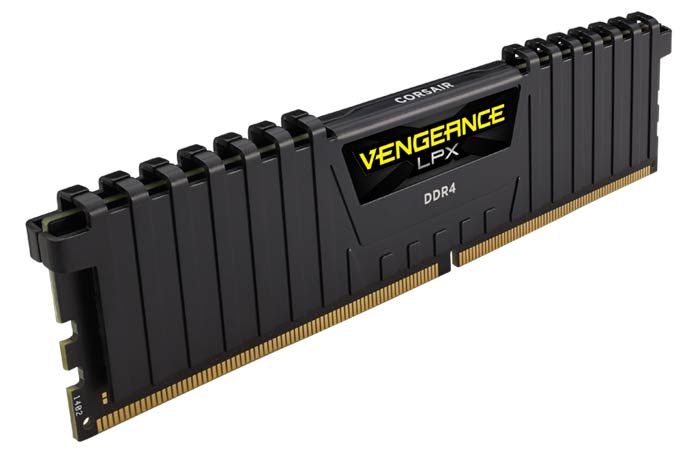 The fastest of the newly announced memory kits, predictably, is the Corsair Vengeance LPX 32GB (4x8GB) kit which can run at a frequency of 3,600MHz. This 32GB DDR4 kit runs at 1.35V with CL18-19-19-39 timings. Stepping up in capacity Corsair is offering the new Vengeance LPX 64GB kit. This employs 4x16GB DDR4 memory modules and runs as fast as 3,333MHz at 1.35V with CL16-18-18-36 timings. The Corsair Vengeance LPX 32B and 64GB kits are optimized for Intel's Z170 dual-channel platform.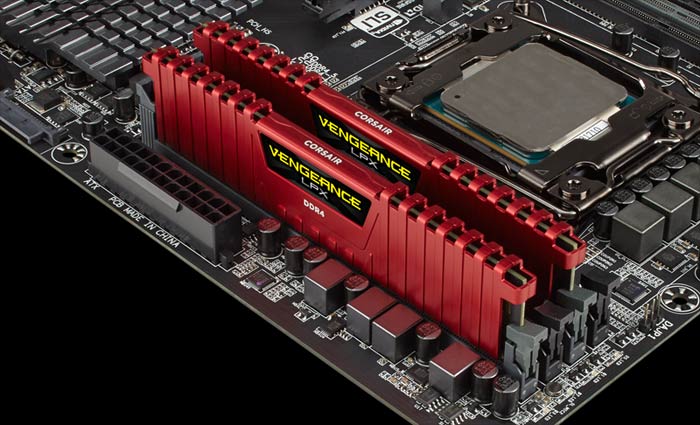 Doubling up again, Corsair's largest kit announced today is the Vengeance LPX 128GB. This uses 8x16GB DDR4 memory modules, clocked at 3,000MHz, and runs at 1.35V with CL16-18-18-36 low-latency timings. This kit is "designed to push Intel's X99 quad-channel platform to the next level," and its capacity and speed should appeal to high-end workstation builders who intend to run the most demanding applications.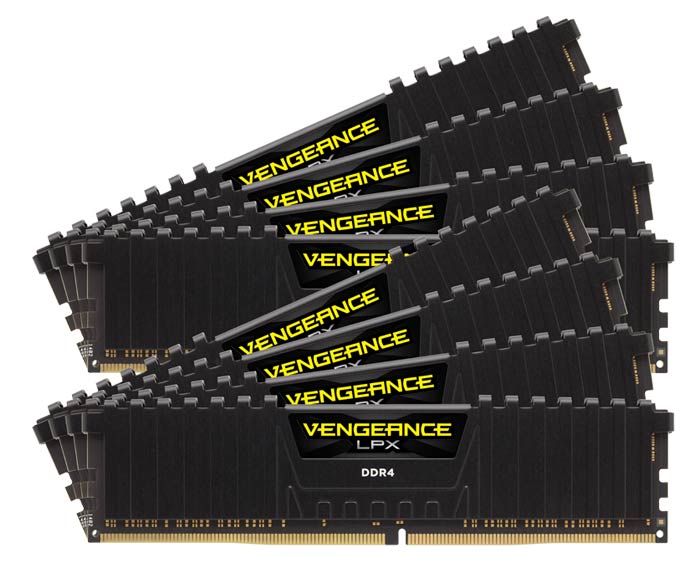 Included in the memory kits is Corsair's Vengeance Airflow cooling system, a removable 40mm fan cooling bracket fitted to each bank of DIMMs that provides constant airflow "to ensure modules remain cool and stable regardless of load". The three new high speed memory kits are provided with black Vengeance LPX aluminium heat spreaders for improved thermals but the smaller 32GB/64GB kits are also available with red heat spreaders, if you prefer.
Corsair's new memory kits are available immediately via its worldwide network. Please refer to the SKU table below for part numbers and recommended US pricing.
| | | |
| --- | --- | --- |
| Model | Part number | MSRP |
| Black Vengeance LPX 128GB (8x16GB) 3,000MHz | CMK128GX4M8B3000C16 | $1,174.99 Exc. Tax |
| Black Vengeance LPX 64GB (4x16GB) 3,333MHz | CMK64GX4M4B3333C16 | $549.99 Exc. Tax |
| Red Vengeance LPX 64GB (4x16GB) 3,333MHz | CMK64GX4M4B3333C16R | $549.99 Exc. Tax |
| Black Vengeance LPX 32GB (4x8GB) 3,600MHz | CMK32GX4M4B3600C18 | $349.99 Exc. Tax |
| Red Vengeance LPX 32GB (4x8GB) 3,600MHz | CMK32GX4M4B3600C18R | $349.99 Exc. Tax |