Samsung has announced that its 30nm DDR3 DRAM has successfully completed customer evaluation and will enter mass production in the second half of the year.
Samsung's 30nm modules - the industry's first - are to be available in 2GB capacities and promise to lower power consumption by up to 30 per cent when compared to previous-generation 50nm parts.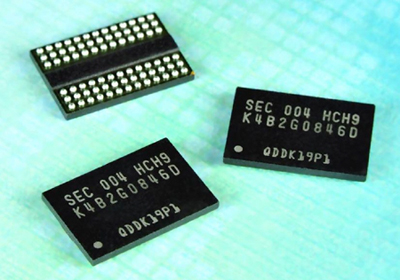 Operating at 1.5V and 1.35V, the modules will soon be making their way into servers, desktops and notebooks, with Samsung expecting production cost-efficiency to double as a result of the refined 30nm process.
Soo-In Cho, President of Samsung Electronics' memory division, feeling bullish about his company's position said: "Our accelerated development of next generation 30nm-class DRAM should keep us in the most competitive position in the memory market."
"Our 30nm-class process technology will provide the most advanced low-power DDR3 available today and therein the most efficient DRAM solutions anywhere for the introduction of consumer electronics devices and server systems."
Highlighting the benefit to consumers, Samsung claims a 30nm 4GB "Green DRAM" module will consume only three watts per hour.
Samsung, now the world's largest technology company in terms of sales, is never short of a memory innovation or two. Back in 2009 the South Korean company showed off a single 32GB DDR3 memory module, and earlier this year it announced a series of 30nm NAND Flash memory cards for mobile devices.