Somewhat belatedly, Team Group has today decided to join the high-speed DDR3 scene with the launch of its Xtreem DDR3 2000 memory kit.
The tri-channel kit, pictured below in 3GB (3x1GB) capacity, operates at 2,000MHz with latencies of 7-8-7-20, matching similar modules on offer from the likes of Corsair, OCZ and G.Skill - though the latter now also offers a quicker 2,133MHz alternative.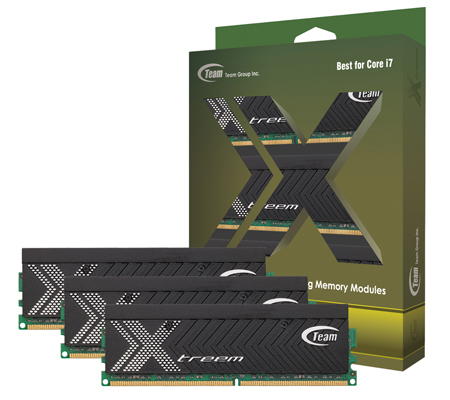 Designed for Intel's Core i7 platform, the modules operate at 1.65V, feature an aluminium heatsink and come backed by a lifetime warranty.
Team Group does also offer a 6GB (3x2GB) kit, and though it operates at 2,000MHz, it offers not-so-impressive latencies of 9-9-9-24. No word on pricing yet, but a greater number of competitors is sure to continue nudging prices downward.