With many Core i7 motherboards providing just the three triple-channel DIMM slots, we've become accustomed to thinking that 6GB (3x2GB) of RAM should be ample for most users.
Kingston, clearly, doesn't agree and is today launching what it claims to be the world's first 12GB 1,600MHz triple-channel DDR3 memory kit. The HyperX kit, pictured below, consists of three 4GB modules that operate at the required 1.65 volts, with latencies of 9-9-9-27.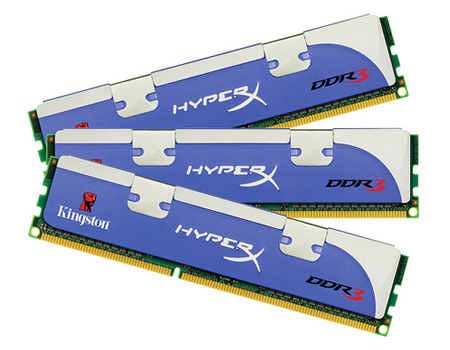 It's a touch slower than the 2,000MHz 6GB kit we tested earlier this year, but if quantity matters most, you won't find a bigger tri-channel kit than this.
The 12GB HyperX kit is backed by Kingston's lifetime warranty, but its biggest drawback is pricing. Exactly how much will a tri-channel 12GB kit set you back? According to Kingston, it'll hit retail with a MSRP or £1,101.41.
Sounds silly right now - but then 4GB kits seemed like a stretch of the imagination a few years back. Should 12GB kits become the norm further down the line, prices should become reasonable as production ramps up.
Official press release: Kingston Technology Launches Industry First HyperX 12GB DDR3