There may be only three Intel Core i7 processors to choose from when the semiconductor giant launches its next-gen Nehalem architecture sometime next month, but there won't be any shortage of tri-channel memory solutions.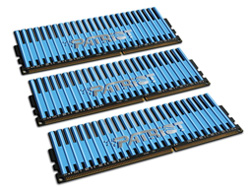 We've already had the likes of A-DATA and Corsair asking us to reach into our pockets with a selection of ready-for-X58 solutions, and California's Patriot Memory is next in line with the launch of its tri-channel Viper series.
Patriot's solutions all feature its Viper series heat shields and there's a selection of 3GB and 6GB kits on offer. Speeds range from 1,333MHz to 1,600MHz, but there's nothing to match Corsair's pricey-but-quick 1,866MHz Dominator, yet.
We'd expect availability before Core i7 processors hit the shelves, but there's no word on pricing. The complete list of eight available kits will breakdown as follows:
3GB PC3-12800 Viper Series Low Latency Tri-Channel Kit, 1600MHz (3 x 1GB) 8-8-8-24
6GB PC3-12800 Viper Series Low Latency Tri-Channel Kit, 1600MHz (3 x 2GB) 8-8-8-24
3GB PC3-12800 Viper Series Enhanced Latency Tri-Channel Kit, 1600MHz (3 x 1GB) 9-9-9-24
6GB PC3-12800 Viper Series Enhanced Latency Tri-Channel Kit, 1600MHz (3 x 2GB) 9-9-9-24
3GB PC3-10666 Viper Series Low Latency Tri-Channel Kit, 1333MHz (3 x 1GB) 7-7-7-20
6GB PC3-10666 Viper Series Low Latency Tri-Channel Kit, 1333MHz (3 x 2GB) 7-7-7-20
3GB PC3-10666 Viper Series Enhanced Latency Tri-Channel Kit, 1333MHz (3 x 1GB) 9-9-9-24
6GB PC3-10666 Viper Series Enhanced Latency Tri-Channel Kit, 1333MHz (3 x 2GB) 9-9-9-24

Official press release: Patriot Announces Viper Series Tri-Channel Memory Kits for Intel's® X58 Express Chipset