Memory manufacturers face a tough time in differentiating their RAM from the competitions'. After all, with the underlying ICs coming from a handful of sources, just how much can they do to extol the virtues of a, say, manufacturer-specific heatspreader?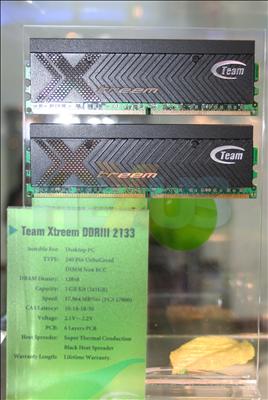 Team Group takes the approach of highlighting Xtreem (sic) speed, showcasing DDR3 modules operating at an effective 2,133MHz with 2.1V+ pumped through them. The latencies, 10-10-10-30, aren't wholly impressive, but that's the trade-off once you go above 2,000MHz.

Trouble is, ultra-high-speed DDR3 is still prohibitively expensive, and this 2GiB kit will only hit its rated speed on an NVIDIA nForce 790i Ultra SLI motherboard, although no mention is made of EPP 2.0 profiles.

Corsair recently announced that it was launching a 4GiB kit of DDR3-2,000-rated memory, and we'd opt for capacity over a little extra speed, especially when the chipset is limited to just two modules at these sky-high frequencies.

Pointless? No. But DDR3 really does need to drop in price, significantly, before it displaces DDR2 as the system memory of choice.

Who will be showing 2,200MHz+ DDR3, we wonder, and, more importantly, will it be productised?