Samsung has announced that it has begun mass producing the industry's first 12-gigabit (Gb) LPDDR5 mobile DRAM. The new RMA chips are destined for the latest and greatest flagship smartphones being readied for launch in the coming months (lie the Galaxy Note10). Particular benefits users might feel with the equipping of LPDDR5 mobile DRAM will be evident in the fields of 5G and AI applications, reckons Samsung.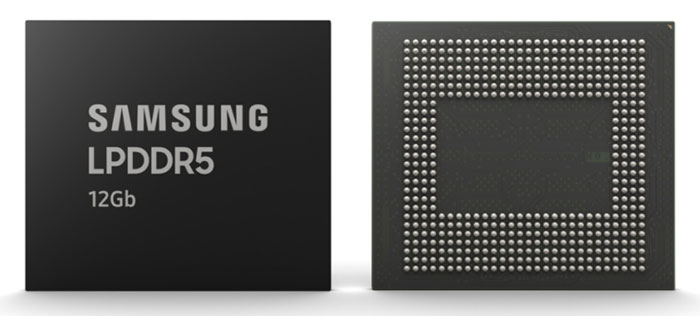 With its 12-gigabit (Gb) LPDDR5 mobile DRAM chips starting to roll off production lines, Samsung plans to start mass producing 12-gigabyte (GB) LPDDR5 packages later this month, each combining eight of the 12Gb chips. Thus it looks like flagship smartphones packing 12GB of RAM will become the aspirational devices for cutting edge early adopters later this year.
Jung-bae Lee, EVP of DRAM Product & Technology, at Samsung Electronics said that the new 10-nanometer (nm) class memory modules will be important to early adopters of 5G worldwide. Lee added that Samsung is "committed to rapidly introducing next-generation mobile memory technologies that deliver greater performance and higher capacity," and will continue to pioneer in the premium memory market.
1.3x faster, up to 30 per cent more power efficient
LPDDR5 will allow users to "fully leverage 5G and AI capabilities like ultra-high-definition video recording and machine learning," claims Samsung on its news blog. Furthermore, Samsung says that LPDDR5 mobile DRAM is significantly more energy efficient. It shares some performance stats to illustrate the potential:
At a data rate of 5,500 megabits per second (Mb/s), the 12Gb LPDDR5 is approximately 1.3 times faster than previous gen mobile memory (LPDDR4X, 4,266Mb/s).
When made into a 12GB package, the LPDDR5 is able to transfer 44GB of data, or about 12 full-HD (3.7GB-sized) movies, in only a second.
Samsung LPDDR5 uses up to 30 per cent less power than its predecessor by integrating a new circuit design with enhanced clocking, training and low-power feature.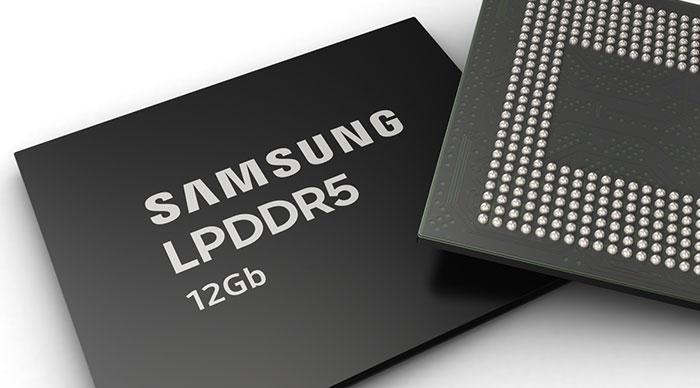 Samsung asserts it will continue to push next-generation mobile memory technologies above, and it is expecting to develop 16Gb LPDDR5 next year to keep ahead of its competition. Meanwhile, depending upon demand for the headlining memory chips, the firm has indicated it has flexible Korean manufacturing capacity for scaling up 10nm class 12Gb LPDDR5 production.