Perhaps Team Group has the most RGB-intensive lineup at Computex this week. The literally dazzling range of RGB products are being marketed under the memory-maker's T-Force gaming brand and span; computer memory modules, SATA SSDs, liquid cooled M.2 SSDs, external SSDs, flash drives, and an RGB control box with RGB strip.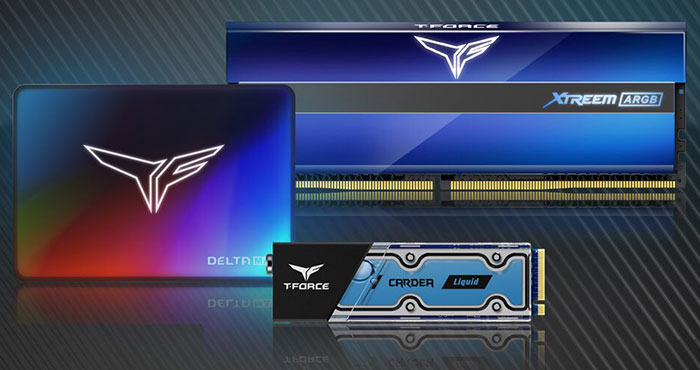 T-Force Xtreem ARGB Gaming Memory builds on the highest frequency non-RGB memory under the same sub-brand - supporting up to DDR4 4800MHz. Of course this new product adds addressable RGB frills, of which there are plenty.
Team Group says its T-Force Xtreem ARGB modules are the first in the industry to feature full-screen independent light module technology. To turn up the intensity these modules also utilise a full mirror screen. Rather than describe the effects further, please watch through our embedded video (coming soon) from the Team Group exhibition at Computex.
If the T-Force Xtreem ARGB modules are perhaps somewhat too dazzling for your taste, but you would still appreciate some level of lighting on your memory modules, Team Force would like to draw your attention to the T-Force Delta Z ARGB and Xcalibur ARGB. These more subtle high-performance gaming memory options include all the lighting effects from previous models but add in 12-level brightness control without impacting colour fidelity.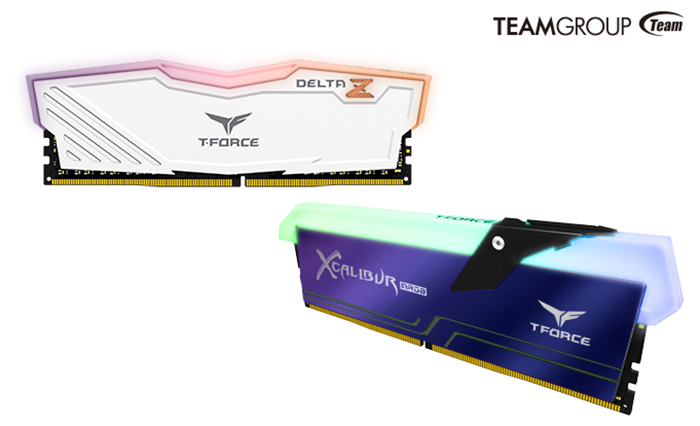 Moving onto storage devices and the T-Force Delta Max RGB features a similar mirror tech to that applied to the Xtreem memory modules. Team Group says that the surface effect is "like a magic mirror". Its dense LED array spans almost the entire top surface area almost like a surface mounted monitor, but if turned off you wouldn't know it is there.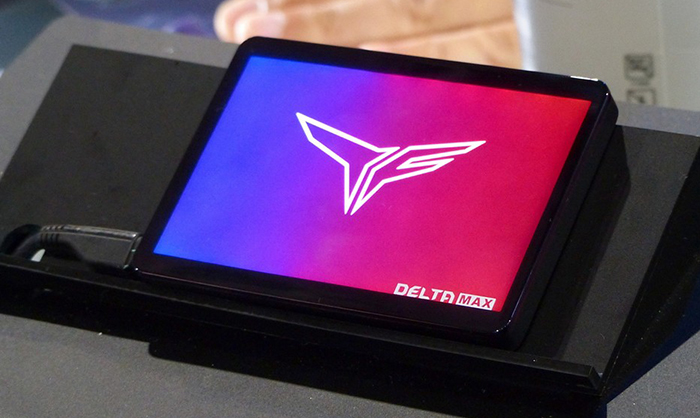 Under the skin there is nothing surprising about the T-Force Delta Max RGB. It uses modern 3D NAND chips plus a SATA interface to deliver up to 560MB/s in read speeds and 510MB/s write speeds. It is claimed to be both efficient and durable.
Another product I'd like to highlight is the all-new T-Force Cardea Liquid M.2 PCIe SSD. These intriguing looking M.2 sticks feature a liquid cooling chamber on top. Team Group claims that this construction can "effectively lower the temperature down about 10 degrees". However, we must point out that this is a self contained 'self-circulation' unit, and won't be able to be connected to a liquid cooling loop (without modifications).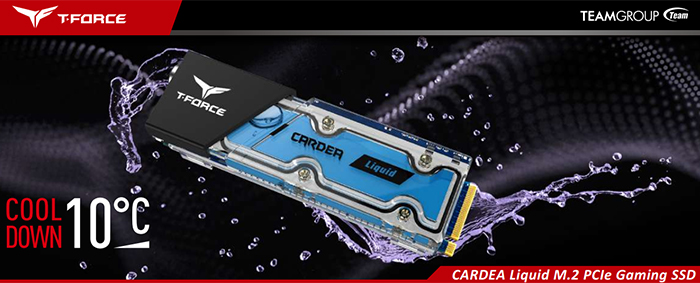 Users are supposed to just install it and forget it - except for refilling with liquid, in your own choice of colour, periodically. There are no LEDs built-into these sticks they just rely on external lighting, laser cutting and colourful liquids for curb-appeal. T-Force Cardea Liquid M.2 drives have won a COMPUTEX d&i award this year.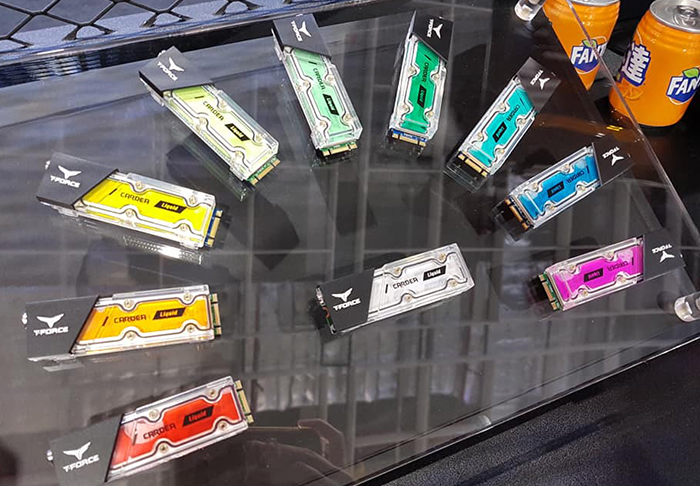 Performance of the T-Force Cardea Liquid M.2 PCIe SSDs is pretty standard for this class of PCIe Gen3 x4 device. It has a quoted sequential read/write speed of up to 3400/3000MB/s, and random read/write speed of up to 180K/160K IOPS. You will be able to purchase Cardea Liquid SSDs in 256GB, 512GB and 1TB capacities.