Available in both 2GB and 4GB dual-channel kits
California-based OCZ Technology today added to its award-winning Reaper HPC series with the introduction of two new DDR3-1333 kits, available in 2GB (2x1024MB) and 4GB (2x2048MB) dual-channel models.
The scary-sounding PC3-10666 Reaper HPC features OCZ's thermo-conductive copper heat pipe conduit to help provide that extra touch of cooling needed for the high frequency DDR3. As with all of OCZ's Reaper HPC solutions, these modules are backed by a lifetime warranty.
The kits, rated at 1333MHz and featuring a CL of 6-6-6, are geared toward enthusiasts and overclockers alike, prices are yet to be announced.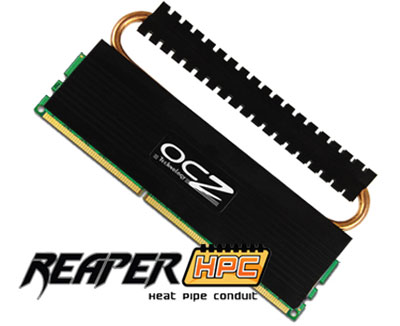 Dr. Michael Schuette, VP of Technology at OCZ Technology said:

"DDR3 has gained the undisputed edge as a performance-leading solution in computer memory, yet extreme performance comes at a price. However, with the general trend of DDR3 prices declining, lower speed grades of DDR3 are about to reach price parity with high-end DDR2, allowing the user to embrace the new memory standard within a reasonable budget. Particularly for those who upgrade their systems one component at the time, the new DDR3-1333 Reaper kits are a perfect match, delivering the fundamental performance benefits of the DDR3 architecture in a heatpipe-based thermal management solution while keeping the path open for any future upgrade to extreme performance components."

Official press release: OCZ Technology Announces New DDR3-1333 Kits in the Award-Winning Reaper HPC Series here.

Official product page: OCZTechnology.com