Anytime, Anywhere, Any Media, Any Screen
Like many exhibitors at the 2010 Consumer Electronics Show in Las Vegas, Netgear has set its sights on providing a connected consumer experience, and with it's roots entrenched in networking products, it's ideally placed to link the multitude of consumer electronics in the modern home.
Although without the glitz and glamour provided by some of the biggest names at CES, Netgear's own press conference revealed a number of useful products, and the company's energetic vice president and general manager of home and consumer products Vivek Pathela is always a bundle of joy.
Getting the show started, Netgear kicked off its theme of "Anytime, Anywhere, Any Media, Any Screen" with a pair of useful-looking network solutions; the DGN2200M router and the GS605AV switch.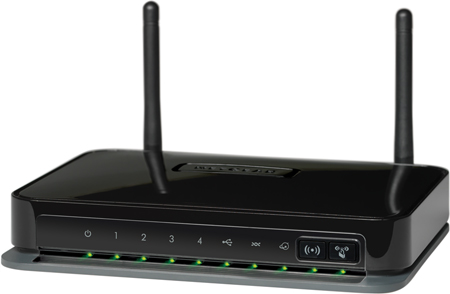 Netgear's DGN2200M router, pictured above, provides your standard 802.11n wireless connectivity and a built-in ADSL2+ modem, but brings something new to the mix in the form of support for 3G/4G/WiMAX connectivity. Via an optional dongle, users can connect the unit to a mobile network where, for example, a 3G connection could provide failover protection should your fixed-line broadband drop out.
A useful option for the business crowd, we reckon, and it'll launch in the U.S. this April priced at $179.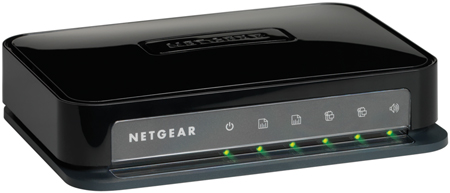 Happy with your current router but in need of a new switch? Take a look at Netgear's latest 5-port Home Theatre and Gaming Network Switch, the GS605AV.
Capable of streaming full-HD video, Netgear claims the switch prioritises and optimises the performance of your Internet connection, making it ideally suited for use with games consoles and network media players. What's useful is that the user can easily prioritise networked devices by attaching them to colour-coded ports at the rear.
The GS605AV will be hitting retail in March, but for those looking for something a little more cable-free, keep an eye out for Netgear's carrier-grade Wireless-N bridge later in the spring. It'll feature "4x4 multiple-input, multiple-out (MIMO) antenna signal processing, real-time spectrum analysis and dynamic digital beamforming, in addition to using a low-interference 5GHz frequency band". All that could combine to create wireless connectivity strong enough for full-HD streaming.
Not convinced? There's always powerline adapters...