Xtreme SLI from ASUS
Turns out the Rampage III Extreme motherboard unveiled by ASUS back in March won't support four-way SLI configurations right out of the box.
Perhaps in an effort to keep costs down, ASUS opted against equipping the board with NVIDIA NF200 bridge chips and a four-way SLI license. The decision makes sense, as very few users are ever going to utilise a four-way GPU configuration, and both the added expense and additional power draw (each NF200 chip eats up around 6W) are essentially drawbacks for 99 per cent of users.
But for those of you who have scored a Rampage III Extreme board and four GeForce GTX 480s (anyone?), it looks as though the Taiwanese manufacturer has a solution that'll bring all five components together.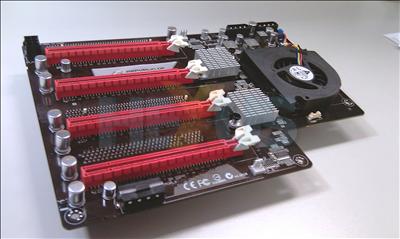 It's dubbed the ASUS ROG Xpander and it's sole purpose is to bring four-way SLI support to the Rampage III Extreme motherboard.
Equipped with two NF200 bridge chips, the add-on board enables would-be buyers to run four GeForce GPUs at x16 apiece.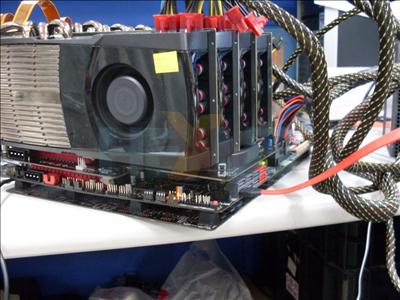 Installed onto the Rampage II Extreme's first and third PCIe slots, the board draws its own power from an array of molex connectors and a single six-pin PCIe connector, and features a built-in fan to assist air flow. It's overkill for most users, sure, but if you're hankering to break a graphics benchmark or two, ASUS reckons this is the way to do it.
Trouble is, how will it fit into any existing chassis? Answer is it probably won't, but if you're running four GTX 480s there's a good chance you won't want to keep them in an enclosed environment anyway.
Expect to see this one on show at next month's Computex, and we'll bring you info regarding pricing and availability as soon as we have it. In the meantime, hit page two for a handful of close-up shots.