Core i5 doing the rounds
We caught a few Intel P55 (Ibex Peak)-based boards back at CeBIT in March, but they're everywhere here at COMPUTEX.
Supporting Intel's Core i5 processor - which, incidentally, isn't due until September - the boards provide a more-affordable entry into Intel's Nehalem architecture. Core i5 parts - codenamed Lynnfield - will interface with the chipset via DMI as opposed to QPI, and feature dual-channel memory. Think of it as Core i7 cut down and repackaged for the masses.
With the 2.66GHz Core i5 processor expected to fetch around £150, a sub-£100 P55 board and a dual-channel DDR3 kit combines to create a feasible high-end system. Speaking of boards, here's a couple we saw lying around during our pre-show wandering at COMPUTEX. First up, J&W.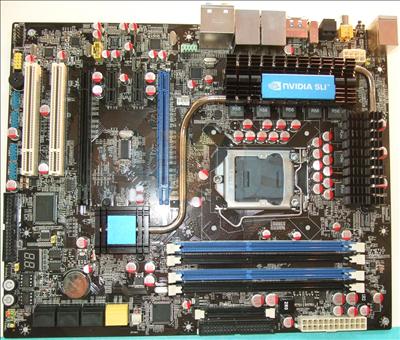 J&Who? J&W's a name that's new to many, but it remains one of China's biggest mainboard manufacturers in terms of sales, and it always tends to have something interesting on display. It's high end P55 board, pictured above, features the expected dual PCIe x16 slots (each operating at x8 when used in SLI or CrossFire configuration), along with a number of heatsinks and overclocking tools.
Perhaps of more interest, and particularly to those wanting Nehalem on a budget, is J&W's mATX board. Here's Core i5 simplified, with a single PCIe x16 slot and little-to-no frills. We've yet to speak to J&W and discuss pricing, but this is a board we reckon could be very affordable.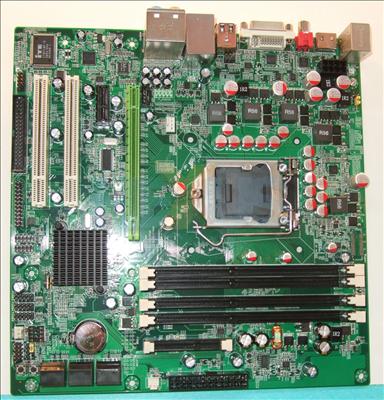 What's the purpose of the NVRAM slot below the four DIMM slots? It's a 'plug-in' slot for augmenting the board with an appropriate SSD.
Head on over to page two for shots of Core i5 boards from Biostar and MSI.