NVIDIA ignites the mobile graphics market
NVIDIA's new IGPs have the beating of Intel G45's X4500HD on the desktop front, but its real value will show in notebook systems in the form of the GeForce 9400M.
Apple - who now appears to command exclusive access to chips from either Intel or NVIDIA - debuted NVIDIA's GeForce 9400M yesterday as part of a new range of MacBooks.
In somewhat unusual fashion, NVIDIA is today following Apple's lead by formally announcing the notebook-orientated motherboard GPU as a solo product that'll eventually be offered by many other OEMs.
The GeForce 9400M - an amalgamation of a high-performance GPU and a mainboard chipset - provides enhanced graphical capabilities in slim computers such as today's notebooks. With 16 parallel processing cores and a 128-bit memory interface, the GeForce 9400M is able to deliver up to 54 Gigaflops of processor power - enough to outpace Intel's X4500HD by up to five times when it comes to 3D performance.
Little surprise, then, that Apple decided to make the switch from Intel to NVIDIA in its new range of MacBook systems.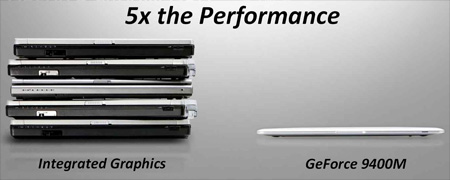 While the chip may be good enough for moderate gaming, its real prowess lies in multimedia. With support for features such as NVIDIA's CUDA technology and its VP3 video-processing engine, the GeForce 9400M hopes to make good on the promise of "visual computing".
In addition to the potent GPU, the chip's core logic provides support for DDR2 800 or DDR3 1066 memory, 12 USB 2.0 ports, six 3GB/s SATA ports and Gigabit Ethernet.
So, we've seen the Apple implementation, but what about all the other OEMs?