Prepare to fall in love, says Dell
After months of teasing, Dell has officially taken the wraps off its Adamo laptop - the first product from its new luxury line.
Adamo, derived from Latin, translates to "fall in love with", and Dell's ambition for the ultra-chic range is clearly to beat Apple at its own game. With that in mind, readers should be aware that this is a range that's likely to be under-powered, over-priced, but worth every penny for those wanting to make a statement of style.
The Adamo laptop, pictured below, features a 13.4in screen and is available to pre-order from adamobydell.com with prices starting at $1,999. Described as "the pinnacle of craftsmanship and design", the system is available in Onyx or Pearl designs, features an edge-to-edge 720p glass display, is crafted from a single piece of aluminium with a scalloped backlit keyboard, and claims to be the world's thinnest laptop.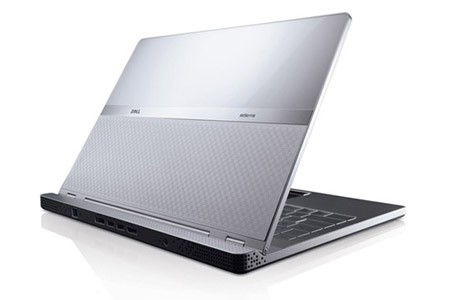 It's undeniably sexy, but whilst $2,000 will get you plenty of style, it might not win over users that put performance above all else. With its basic specification, the Adamo laptop sports a 1.2GHz Intel Core 2 Duo processor, 2GB of DDR3 memory, and a 128GB solid-state drive.
There's Wireless N connectivity, Bluetooth, optional mobile broadband, and an ample number of ports - including two USB, a USB/eSATA combo port, DisplayPort and Gigabit Ethernet. It'll be sporting Microsoft's 64-bit Windows Vista Home Premium operating system, and promises up to five hours of battery life.
Taking a leaf out of Apple's book, the system will arrive in luxurious packaging, and there'll be a selection of presumably-pricey Adamo-branded accessories, too. Users can expect Adamo carry cases, external hard drives, external Blu-ray drives, flash memory sticks and even Adamo cabling.
It's way outside most users' budget, but seeing as Dell has most other market segments covered, why not launch a range that oozes class? Head on over to page two for a selection of Adamo videos, providing a closer look at the laptop itself, and its elegant packaging.