Samsung joins the foray
Samsung has today confirmed its arrival into the netbook market with the launch of its NC10.
The South Korean's netbook offering was spotted early last week, but it's now official - and will arrive in October at an expected selling price of £329 excluding VAT - that's roughly £387 all-inclusive, making this one of the most expensive netbooks around.
So, what do you get for that lofty price-tag? Well, not a whole lot more. The NC10 features a Wind-matching 10.2in 1,024x600 LED screen, Intel's 1.6GHz Atom N270 processor, up to 1GB of RAM and up to 160GB of hard-disk space.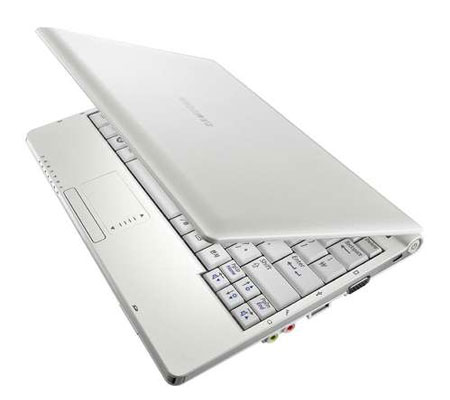 It looks a whole lot like MSI's Wind, too, but Samsung claims the NC10 is "a stylish alternative to existing products in the space."
The NC10 weighs 1.33kg and features a six-cell battery. It's available in a choice of colours - white, piano black and metallic blue - but its price, we feel, doesn't quite add up. AMD's Pat Moorhead, who already thinks netbooks are overpriced, must be pulling his hair out right about now.
Head on over to page two for a list of Samsung-provided key features, and the complete specification.
Official press release: Samsung storms into the netbook market with NC10