Perusing various stands and learning about the latest technology sounds like an ideal plan for five days, right?

Well, it can become hugely monotonous, especially once you've seen a particular chipset incorporated into 15 partners' motherboards. The same goes for graphics cards, coolers and the rest.

It's the plain silly things at COMPUTEX that can make you laugh when you're one motherboard away from being committed.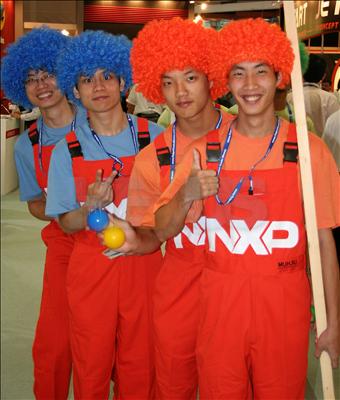 It's a show full of stunning eye-candy wherever you turn, modelling the latest USB stick from Corsair or proffering NVIDIA-branded fans in an environment where the air-conditioning seems to have taken a holiday. Folks sweating through Hall 2 will know exactly what I mean. So, it's refreshing - if a little alarming - to be almost set upon by a gang of hard-up youths willing to undergo a week's worth of sniggering from passers-by.

I'm absolutely loathed to say it but the chaps at NXP made more of an impression, albeit comical, than the cloned beauties vying for attention.