.landgrab
The Internet Corporation for Assigned Names and Numbers - ICANN - finally got round to voting on the plan to open up the generic top-level domain (gTLD) system - i.e. .com, .net, etc - at a meeting in Singapore today, and approved it.
This means that you can create your own gTLD now - .hexus, for example - and apply to have it registered by ICANN. There are fears that this will lead to another round of cyber-squatting, in which opportunists grab gTLDs that they anticipate selling on at a premium, but the $185,000 cost of application should deter all but the most determined squatters.
"ICANN has opened the Internet's naming system to unleash the global human imagination," said Rod Beckstrom, President and CEO of ICANN. "Today's decision respects the rights of groups to create new Top Level Domains in any language or script. We hope this allows the domain name system to better serve all of mankind."
ICANN first announced its approval of the general concept of expanding the gTLD system three years ago, announcing at the time it was working towards accepting the first applications in Q2 2009. Why it took three times longer than first anticipated is unclear, but we assume the high cost of registration is also designed to compensate all the hard work this non-profit corporation has had to put in before rubber-stamping the move.
Circleid.com spoke to Melbourne IT Digital Brand services, who revealed that the vast majority of the companies they had spoken to, who were planning to apply for a new gTLD, would be going for their own brand - such as .canon - as opposed to a generic brand - such as .bank. Here's the infographic supplied by them.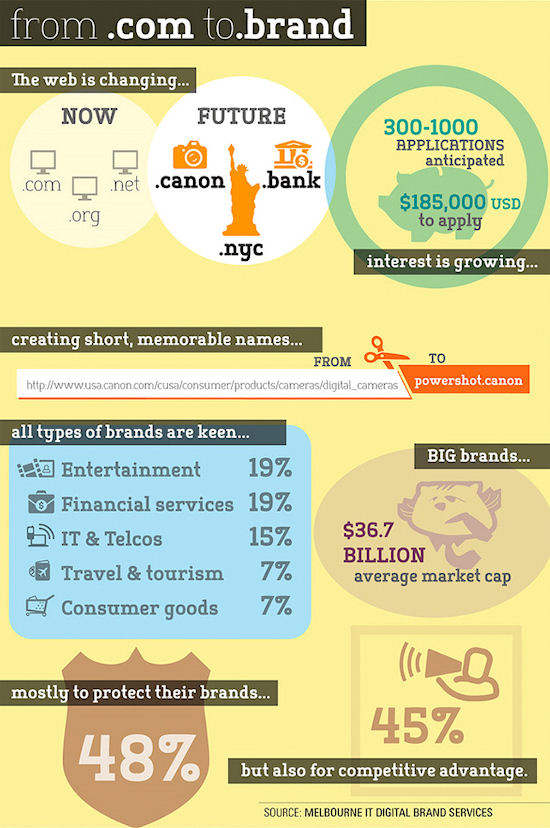 Update - changed the currency to dollars - apologies