Did we mention there was a lot to see at ASUS' booth at COMPUTEX '09? In addition to all the current and imminent hardware, the tech giant also had a concept of what it's calling the ASUS Seamless Experience.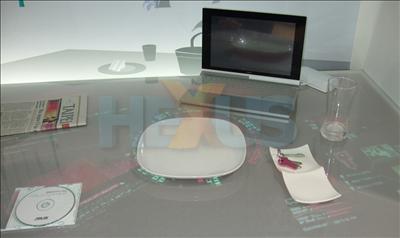 Demoed as above, the technology seems to resemble Microsoft's Surface - but we have assurances from the on-hand ASUS spokesperson that this is indeed something different, and that it's something better.
So how does it work, and what it does it do? Well, at this very early stage it's all a bit speculative. According to the ASUS spokesperson, the prototype notebook sitting on the table has a webcam that can somehow recognise all of the items placed in front - consequently allowing it to tell the table to display relevant information.
Trouble is, after a few minutes of bold claims, we finally managed to get the ultimate confession - there are no new tricks at work here, instead, to show how the "concept" could one day work, ASUS has used a large reflective surface with a projector housed underneath. To help it recognise the items on the table, each item is tagged with a specific label. Sounds a whole lot like Microsoft Surface to us, but ASUS seems adamant that it'll one day be more.
We're dubious to say the least, but if you need convincing, here's the official all-conquering blurb:
The 'Seamless Experience' Concept: Communication Without Boundaries

The 'Seamless Experience' concept is the result of the collated feedback, suggestions and recommendations of users around the world submitted via WePC.com, a joint initiative between ASUS and Intel. As a true innovator in the modern digital era, ASUS relentlessly strives to design and build the 'dream PC', as well as simplify the way users communicate with one another and the devices that enable them to do so. ASUS is committed to the pursuit of providing users with a computing experience that is more flexible and intuitive—one which seamlessly melds effortless social communication and high performance.

The 'Seamless Experience' concept is a revolutionary, advanced research initiative that leads the way forward in the new digital era. It bridges the gap in communications between users, as well as devices and the differences between virtual and physical space. The concept introduces four key design thrusts that simplify the way users utilise their PCs, communicate and share data with one another. First, it introduces seamless communications between people and devices. For example, notebooks in close proximity could communicate with one another and files such as photographs can be automatically transferred from one notebook to another. Second, it combines information from several points of origin, or even from a piece of paper, and then transforms it into a digital file which can then be shared with friends and family on a large table interface. This provides users with seamless flexibility, in the knowledge that whatever format of data they bring to the table, it can be shared easily and intuitively.

The 'Seamless Experience' also allows users to maximise the potential of their devices by remotely leveraging on a super computer, allowing them to have always-on access to their multimedia files, important work or personal data without having to carry an otherwise heavy notebook. Finally, a seamless data flow allows users to sync their PDAs, mobile phones, PCs and notebooks, so users can work on a file and its edits can then be synchronised throughout all the devices. It is also capable of analysing data from non-digital formats, such as information scribbled on a piece of paper, and the computer is able to discern its handwriting and store it into the system for future use.

With the 'Seamless Experience' concept, ASUS is forging a way toward a future of truly effortless intuitive computing, communications and data sharing.