Breaking into the supercomputing space
Talking exclusively to HEXUS, Keane said the world would see a lot more of Fermi in the Top 500 in the near future, explaining that many supercomputer makers planned their designs "some five years out" in order to receive the relevant grants from various governments and institutes.
When asked why it had taken so long to break into the space in the first place, Keane admitted that "not all of the software that runs on a CPU cluster runs on a GPU cluster," but said NVIDIA was "starting to overcome that problem."
Keane also said NVIDIA was targeting supercomputers because big money was involved in the space, saying the firm was having particular success in the fields of seismology and oil and gas exploration. The world of finance, he said, was next on NVIDIA's list, with companies like Bloomberg already using Tesla with much success in its server farm.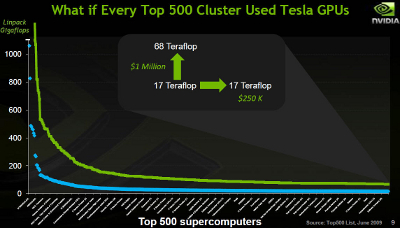 "It'll take another year or so to really flip over, because we've only just started," he said.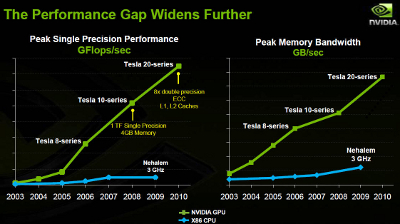 Keane also went on to say he could see NVIDIA having five systems in the top 50 of the Top 500 "quite easily" next year, saying the firm already knew of three or four systems which could currently make it to the Top 500 if they only ran Linpack.