The Big Bad Rad
Try as it may, AMD seems to be having a hard time of keeping its next-gen DirectX 11 graphics cards under wraps. To the delight of many an enthusiast, details of the semiconductor manufacturer's ATI Radeon HD 5800 series are quickly surfacing online.
According to reports, AMD will unleash its next wave of high-end graphics products in under two weeks. Wednesday September 23rd is the date being bandied about, with AMD expected to launch two new products in the form of the ATI Radeon HD 5870 and ATI Radeon HD 5850.
As with any good leak, it wouldn't be complete without a handful of pictures and German site gathering.tweakers.net has obliged with a couple of snaps of the ATI Radeon HD 5870 - a card that AMD hopes will dethrone NVIDIA's GeForce GTX 295 as the single-card performance king.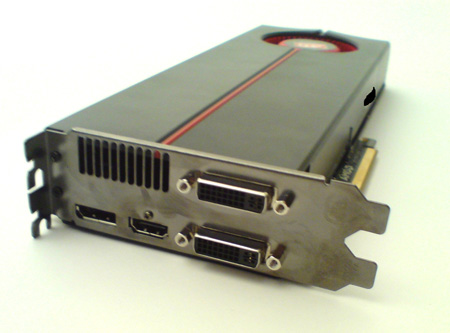 It's a beast of a product, equipped with dual-link DVI, HDMI and DisplayPort connectivity. The trend for bigger, badder graphics cards clearly hasn't subsided.
Specifications are already surfacing around the web, but we'll wait for official AMD figures before we publish. Knowing that this is the first high-end product from AMD's Radeon HD 5870 line, its nomenclature alone suggests that it'll be quicker than anything before it.
As for the Radeon HD 5850, it'll be a trimmed down version and we've a sneaky suspicion it's the card pictured back in August. If neither of the two sound extreme enough, the hardened enthusiast will be happy to hear that rumours are suggesting that a dual-GPU variant - the Radeon HD 5870 X2 - will arrive shortly after.
Want a closer look at the Radeon HD 5870? Check out the additional images on page two.