Smashing benchmark records with Core i7
If it felt a little cold in the Borehamwood area earlier this week, it may been due to the large quantities of liquid nitrogen in use at the HEXUS labs.
At the hands of Paul Watkinson from BenchTec UK, we witnessed a Core i7 setup overclocked to achieve record-breaking benchmarks. In order to get the results, Paul's kit consisted of an ASUS Rampage II Extreme motherboard, Intel's Core i7 965 EE processor, a duo of ASUS Radeon HD 4870 X2 graphics cards, a 1,200W Thermaltake power supply, and 3GB of Corsair's prototype thermo-electrically cooled 1,866MHz DDR3 DOMINATOR memory.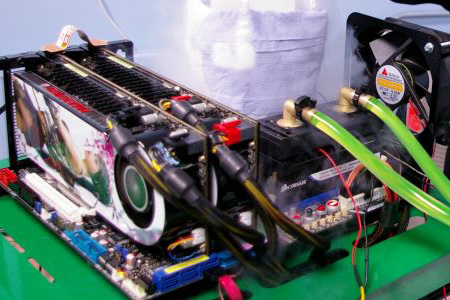 Put it all together, push it to the extreme and world records soon follow. Paul managed to complete a SuperPI 32M run in 7m 20.016s - that's the fastest recorded time of any system in the world. He followed up by completing a wPrime 32M run in 4.899s and a wPrime 1,024M run in 154.254s - both of which are the fastest recorded times on Core i7 systems.
To put into perspective what a touch of liquid nitrogen can do for Intel's Core i7 alone, Paul overclocked the 3.2GHz part to a whopping 5.2GHz.
Proof is on page two, and we've embedded a little teaser clip below. Stay tuned as we'll be airing all the action as it happened in an upcoming HEXUS.TV show.