3D Mercury and other new cases

After the Odin GT power supply and its information-reporting software, perhaps the most interesting Gigabyte product at COMPUTEX was the 3D Mercury water-cooled chassis.

The 3D Mercury is the best design for a pre-installed water-cooled chassis I have seen, so it's a little disappointing that it still isn't available retail despite having made its debut at CeBIT earlier this year.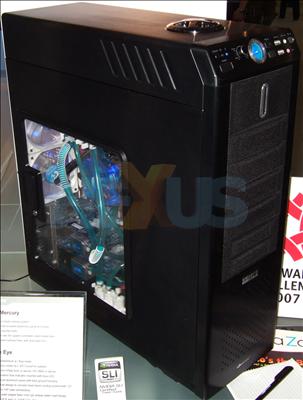 Even so, I have some reservations about performance, due to the relatively small size of the radiator and the unbalanced airflow in the main enclosure.

On the upside, it should prove easy to maintain. There's a simple-to-use integrated funnel on top for refills and a blue backlit water level indicator and flow meter on the front - both shown below.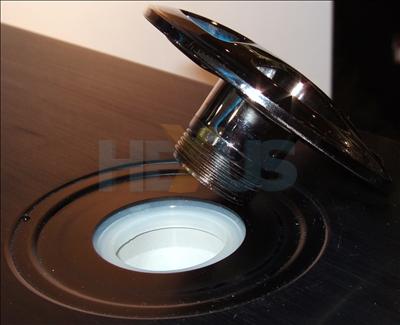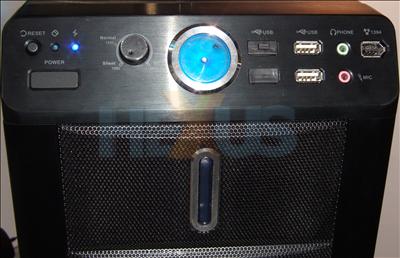 Unlike many water-cooling solutions, the 3D Mercury is supplied with splitter valves. These not only make it easy to upgrade the system from the standard CPU-only kit but also mean that liquid is distributed and collected in parallel, rather than being passed from heat-source to heat-source. As a result, the coolant temperature at the inlet of each water-block in the system should be almost identical.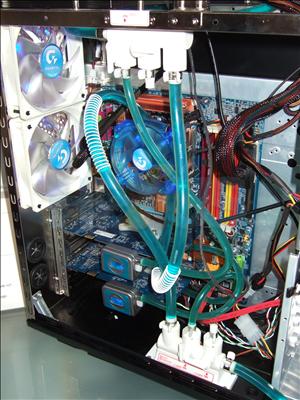 As well as accepting optional chipset water-blocks, the system can cool graphics cards using the Blue Eye VGA water-block - a couple of which are pictured below.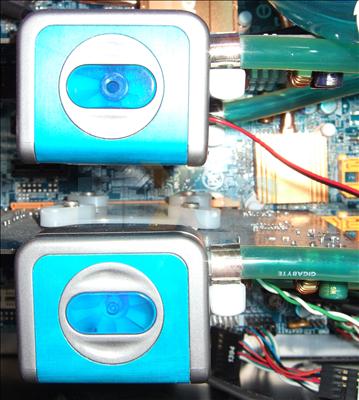 The VGA block has a built-in water-flow meter that's backlit by a blue LED. The block can be used with NVIDIA cards from the GeForce 6x00 series (and above) and ATi/AMD cards from the Radeon X600 series and later.

Another case that caught the eye was the iSOLO 210. It was inspired by expensive-looking loudspeakers and Gigabyte is hoping that will mean it finds acceptance in the living room.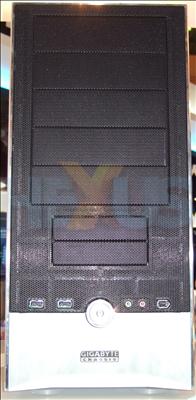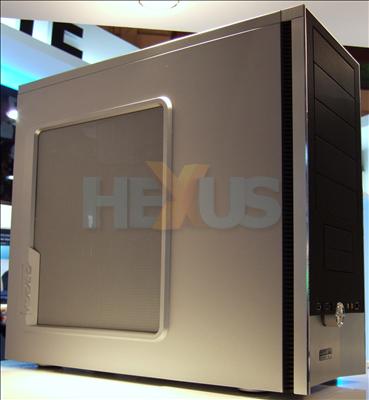 iSOLO is of hybrid aluminium/steel construction and has five 5.25in drive bays and five 3.5in - two external and three internal. Two "silent" 120mm fans provide the cooling and there are anti-vibration mounts to minimise noise.

There's a slightly retro look to Gigabyte's all-aluminium 3D Mars case shown below.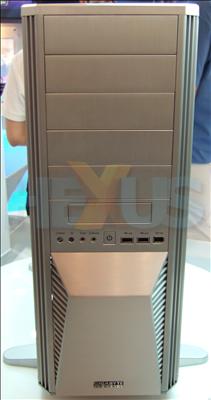 The 3D Mars comes with three 120mm "silent" blue-LED fans and has one especially unusual selling point - internal 3.5in hard drives can be mounted in one of two orientations - front-to-back or sideways. The idea, and it's very welcome, is to achieve the neatest cabling or the best cooling configuration - or both.

The trick is achieved by having an adjustable mounting-bracket on top of the drive-cage. Cooling for the hard-drives can be added by installing a pair of optional 80mm fans in the space provided next to the drive-cage.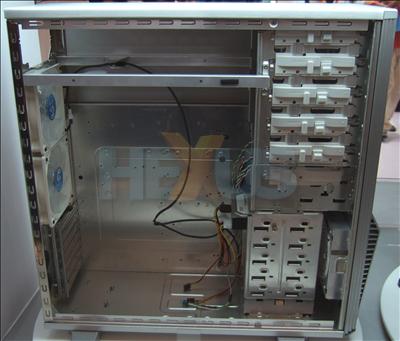 A total of 10 drive bays are provided - seven 3.5in ( six internal, one external) and five 5.25in.

Gigabyte had a LOT of product on show - including a variety of coolers - as you'll appreciate if you dive over to the next page...