Introducing the Level 10
We've been wanting to get a look inside Thermaltake's Level 10 chassis ever since we first laid our eyes on the unusual design back at CeBIT in March. Before we get finally inside, let's take a quick look at the beast's external appearance once again.
What our picture doesn't do is give a sense of scale - but let's make that clear right now, the Thermaltake Level 10 is massive. Want numbers? Try these for size: 614mm x 318mm x 666.3mm. It weighs a whopping 25kg too.
As you're no doubt aware, its compartmentalised design ensures the major components are divided into four chambers - hard drives (up to six), optical drives (up to three), power supply and motherboard.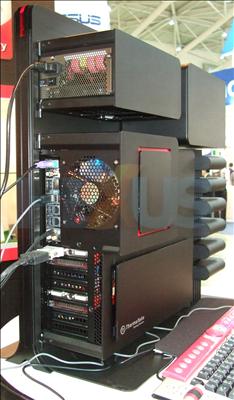 A look from the rear and the six hard drive bays are looking increasingly menacing - users will be happy to know that each bay supports both 2.5in and 3.5in drives, and there's a light to illustrate which bays are occupied. The rear exhaust is a 120mm, 1,300rpm fan equipped with a red LED.
Over to the back and there are two locks - one to remove the back panel and reveal the chassis' cable management system. There's ample room inside for cables to be tied, and they're all fed easily into the chambers on the other side. The second lock, allows access to all four chambers.
Let's turn the key, shall we?