HAF goes mini
Like most exhibitors at this year's CeBIT, Cooler Master is feeling the pinch. We're all slap bang in the middle of a recession, and spending huge amounts on a trade show exhibition isn't high on most manufacturers' to-do list - Cooler Master, in fact, tells us it may not return next year.
Nevertheless, it's here in '09 and it's showing off a few chassis that make sense in today's economic climate. If big-ass solutions aren't your thing, here are a couple of sub-£100 options that might be worthy of your cash.
First up is the impressive-looking HAF 922, a smaller derivative of the existing HAF 932. Retaining its bullish design, the chassis sports a rugged shell that incorporates a trio of fans - two of the 200mm variety operating at 700RPM and one 120mm 1,200RPM exhaust.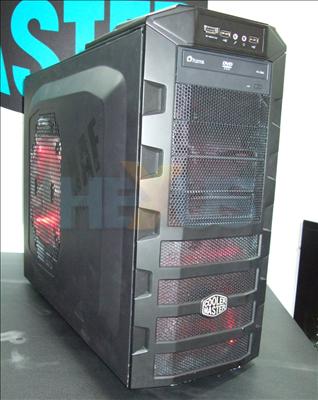 Measuring 255mm x 502mm x 558mm, it'll support ATX or mATX motherboards, and features five 5.25in drive bays as well as room for five 3.5in hard disks.
We've a tendency to tire of the gaudy gamer-orientated chassis, but to Cooler Master's credit, the HAF 922 is stunning in appearance. Wrapping it up nicely is an expected street price of around £85.
But wait, there's more...