Mac Pro - the workstation wonder
Following on from our popular article detailing upgrading an Apple iMac with an Intel 45nm Penryn CPU, we thought it would be a good idea to publish bite-sized nuggets of wisdom on the whole Apple Mac Pro experience, from purchase through to upgrading various internal components.

Our first guide details what the Mac Pro is all about. We'll then be looking at upgrading core components, including CPU, WiFi, RAM, and hard drives - it ain't that hard.

The Apple Mac Pro
The Apple Mac Pro was introduced 18 months ago. The notable departure from previous models lay in the use of Intel Xeons as the beating heart of the top-of-the-line, workstation-oriented system, replacing Apple's PowerPC CPUs.

Available in single- and dual-processor configurations, with native support for Intel's quad-core Xeons, the FB-DIMM-bearing Mac Pro offers impressive performance in a wide range of professional applications.

Keeping up with the times, and since the launch of Intel's 45nm (Penryn) Harpertown-based CPUs in January 2008, the basic configuration comprises of either one or two Intel 2.8GHz, quad-core Xeon E5462 processors that each feature 12MiB of on-chip cache and operate with a maximum TDP of 80W.

The Apple-recommended system, featuring octo-core processing from dual E5462 CPUs operating off a 1,600MHz FSB, costs £1,749, including VAT. That's for the base unit alone, we note, but includes 2GiB of fully-buffered memory (FB-DIMMs), an ATI Radeon HD 2600 XT 256MiB graphics card flashed with a Mac-only BIOS, a 320GiB SATA hard drive, and 16x DVD ReWriter. The usual HIDs - keyboard and mouse - are included, too, along with, of course, the Apple's Mac OS X (Leopard) operating system. The Mac Pro ships with a 1,100W PSU, which is ample for any upgrades you may want to make.

More-powerful models are also available. They extend the specification by offering a couple of quad-core, 3.2GHz Xeon X5482s and can be further user-customised to offer up to 32GiB of memory (ouch at price), 4TiB of hard-drive space, two optical drives, and an NVIDIA Quadro FX 5600 1.5GiB graphics card. Mind you, it will set you back £11,700, and that's without adding a quad-channel fibre card or displays.

HEXUS procured a sample and then went on an upgrade spree!

So here's what we got.  A brand-new Apple Mac Pro bought last week.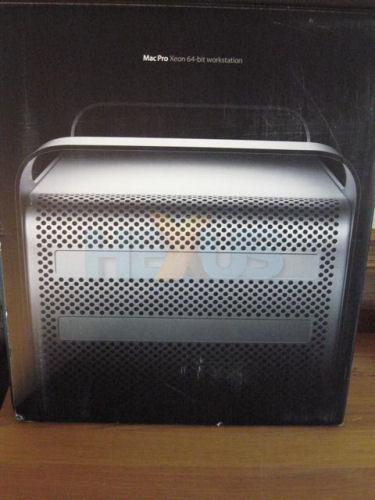 Bracing muscles that we don't have, lugging the box around was no fun; it weighs over 20kg.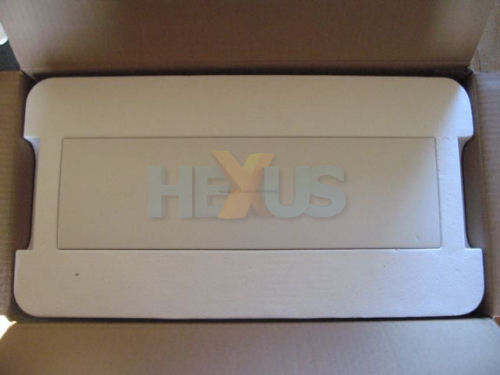 The packaging is excellent, with thick cardboard holding the system in place. Designed in California and manufactured in China, the presentation is typical Apple - cool and understated.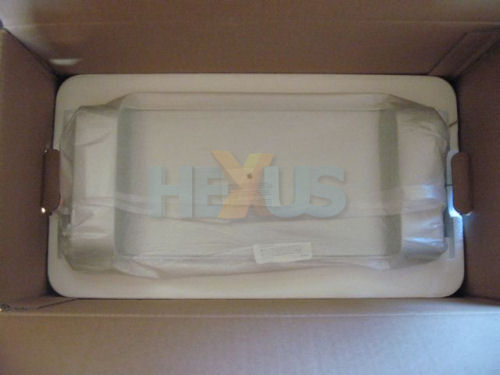 Removing the HID box gave us access to the system. On first glance, it looks exactly like the G5 model that it replaced. The chassis hasn't changed much and features the iconic twin grab-handles on the top.

The system comes away with a little wiggling.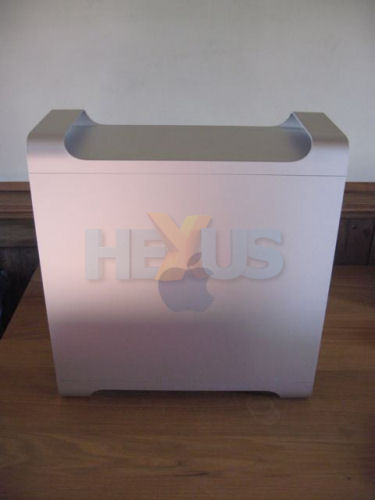 A pink-tinged shot highlights the aluminium chassis in all its refulgent glory. We reckon Apple would do better by dropping its logo and opting for the HEXUS branding, but our advice fell on deaf ears.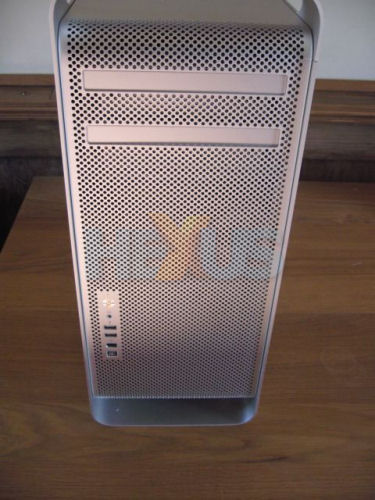 The system tips the scales at 19.2kg and feels supremely well built. The chassis acts as a giant radiator, keeping the hot-running Xeon processor(s) cool and quiet. Note that the chassis is absolutely standard across the range, irrespective of the actual SKU purchased. The ports' arrangement is the only outward indication that it's based on Intel's Xeon CPUs.