Sub-£200
Various research companies indicate that laptop shipments will exceed desktops' in Q4 2008, and it's not hard to see why. Computer power and economies of scale have come far enough along to allow retailers to make a little bit of margin on laptops costing just £200.

The days of having to pay, say, £750 for a mid-range laptop are well and truly over, so how much will you get for a certain outlay, and what particular kind of laptop will that be?

Those are the types of questions that we hope to answer in our laptop guide for September 2008.

The first part will concentrate on what's available for sub-£500. We'll then look at £500-£1,000, and, finally, £1000+.

We hope the guide will arm you with vital information to ensure that you won't be fleeced when purchasing a notebook. As always, preparation is everything.
Sub-£200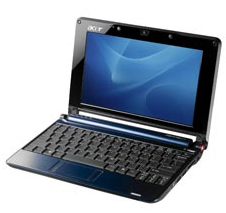 The nascent, burgeoning 'netbook' sector has made it possible for manufacturers and etailers to eke out a profit by selling netbooks for under £200. The trend was largely instigated by ASUS, with its Eee PC and various derivatives making a considerable splash in 2008.

However, from hands-on experience from this year's COMPUTEX trade show, the Intel Atom-powered Acer Aspire One seems to have the edge.

Available in a variety of colours and shipping with a 1.6GHz chip, 512MB of memory, 8GB flash storage, WiFi, Linux Lite OS, 8.9in (1,024x600) screen and weighing in at less than 1kg, the £199 machine is hard to beat.

It won't be a number-crunching monster and 3D gaming is a serious no-no, but as an Internet-centric device it's eminently usable.

£199 @ PC World - Acer Aspire One