Introduction
AMD Puma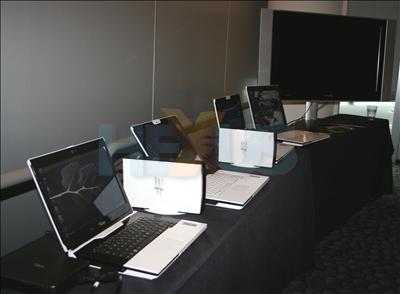 A well-disseminated industry fact is that worldwide laptop shipments will overtake their desktop counterparts very soon. Indeed, that phenomenon has already occurred in some regions, with users eschewing big-box power for the sake of form and go-anywhere connectivity.

Thinking of the laptop as an environment, it's literally a shrunken-down desktop PC, comprising of a screen; CPU; motherboard; memory; chipset; hard-drive storage; and, perhaps; a discrete graphics card. So, much like the desktop space, most of the players - Intel, NVIDIA, AMD - have a foothold in some part of the laptop ecosystem.

AMD's been touting a solutions-based approach, centred around platforms, for some time now, and recently launched its GAME! and Business Class initiatives, aimed at simplying and demystifying computing in general.

The latest 'platform' to come out of Austin, Texas, is Puma - AMD's new mobile offering, comprising of what amounts to a re-badged Turion 64 X2 mobile CPU and M780G chipset. Much noise has been made about just how well it performs from an all-round perspective, but does it have enough clout to win customers over from Intel's Centrino?

Put simply, if Puma does well, AMD's share of the notebook market, across all segments, will dramatically increase, at the direct expense of Intel.

Read on to find out what makes Puma tick along, why AMD's excited, and if it's a viable alternative to the slew of Centrino laptops currently on offer.