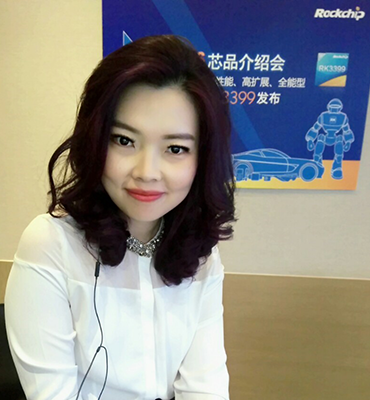 We see our fair share of cutting-edge consumer products here at HEXUS HQ, yet it's often the under-the-hood components that really pique our interest, and in particular the lesser-known companies behind them.
One such company is Rockchip. Founded 15 years ago in 2001 and based out of Fuzhou, China, the fabless designer of SoC solutions has since grown to employ over 700 staff and today supplies an array of high-profile OEMs including the likes of Asus and HP.
Earlier this month, the firm launched its latest ARM-based solution in the form of a new flagship chip dubbed the RK3399. To celebrate the launch, Rockchip brand manager YanYan Xing kindly sat down with HEXUS to tell us more about the company and answer a series of questions exploring what makes the Rockchip SoC a success.
HEXUS: Can you please provide some background on Rockhip? When was the company formed, what are its key strengths, and what is the philosophy moving forwards?
YanYan Xing: Founded in 2001, Rockchip is China's leading fabless semiconductor company and mobile-internet SoC solution provider. Rockchip joined with industry leaders, including Google, Intel, Microsoft and ARM to build an independent and complete industrial chain ecosystem with mobile internet platforms and smart technology for Chromebook, communication devices, tablets, OTT-Boxes, VR, Robot, Drone, In-vehicle machine and more. The launch of IoT technology enables Rockchip to gain enormous influence in the global IoT and smart technology industry. Over the years, we adhere to innovation as our business philosophy and keep up with latest market trend which ensure to provide best products and service.
HEXUS: The RK3288 system-on-chip (SoC) has gained significant momentum in the Chromebook market. Why do you think this is?
YanYan Xing: We are delighted with the response to the Rockchip RK3288 solution. Chromebook sales have boomed over the last year and have been used in education, home and workplace as effective notebook for modern customers. Our team worked hard in the development to create some significant points of difference which would translate directly into the hands of the consumers using the device. We thought in depth about what drives a consumer's positive experience when using their notebook, what causes frustrations and used these as a basis for R&D to design an SoC which addressed these including:
a. Superior video capability which can enhance the video experience – ideal for consumers who watch video content
b. Faster multi-tasking – many users want to be able to switch quickly between applications throughout the day
c. Faster to load apps – the modern customer has become frustrated with waiting for must-have apps to load our technology improves the speed
d. Superior 3D graphics – recognizing the future of content we've developed a system which allows users to enjoy a truly immersive experience
e. Greater power efficiency when watching HD online video, using Docs and Gmail – we want to help people conserve their battery power as much as possible
HEXUS: It appears as if Rockchip has specifically targeted the education market with its range of cost-effective SoCs. Are there any other areas in which the same SoCs can have a similar positive impact?
YanYan Xing: Whilst we could immediately see the benefits of our technology within the education market we feel that was just the first step in our development. We designed the RK3288 as a high performance Soc and as a result it can easily be applied to numerous other areas. Any immerging area that needs a robust solution is perfect for the RK3288; think of growth areas like Virtual Reality, IoT, Drone and Robotics – these all demand a reliable solution which can deliver seamless processing power.
HEXUS: The RK3288 is a 32-bit-only processor based on ARM technology. Do you see a need, in the near future, for 64-bit-capable SoCs in everyday devices such as Chromebooks and set-top boxes?
YanYan Xing: It's like you've read our minds! Our team have already designed chips based on 64-bit architecture like RK3368, which is based on Octa-core cortex-A53.RK3368. We are delighted that this is already on mass production for the set-top box. However we've continued with our passion for designing new generation high performance chipsets, we've launched the RK3399 based on Cortex-A72, which can be applied to notebook, 2-in-1 high-end tablet, thin-client lines, Game-box, VR devices, Robots, and so on.
HEXUS: In fact, Rockchip does have 64-bit processors in its current arsenal, the RK3368. Do you expect this to be supplemented by more 64-bit designs in 2016, and is 64-bit compatibility genuinely important for you?
YanYan Xing: We recognize that in our industry the work and development never stops. As soon as you've launched a product our amazing R&D are busy developing further. There's no doubt that OS and APK can support 64-bit architecture even better. So watch this space because Rockchip will have more chipsets that are based on 64-bit.
HEXUS: Rockchip doesn't appear to use ARM big.LITTLE technology, where high-performance and power-efficient cores are paired together. Is this something you're investigating?
YanYan Xing: It may not be common knowledge but actually we have already used this technology in RK3368 and our flagship solution that was launched in April--RK3399. The RK3399 is big.LITTLE architecture: dual Cortex-A72 and Quad Cortex-A53, 64-bit CPU which can be used in most of application areas.
HEXUS: Over and above the IP provided by ARM and other design partners, what does Rockchip do to improve its SoCs? Can you define some of the Rockchip-specific advantages?
YanYan Xing: Our team are incredibly passionate and experienced and this has enabled us to create some distinct advantages over other products including:
a. Advanced video decoding and encoding, including 4K h.264/VP9 and HEVC.
b. Good understanding for whole SOC spec, not only just integrating IPs together
c. We know about the market and designing products with best performance which will well meet market demands.
d. Optimize design flow to balance chip performance and cost
HEXUS: What does Rockchip do better than rivals such as MediaTek, Allwinner, Spreadtrum, etc?
YanYan Xing: Our desire to deliver excellent high performance solutions means we can naturally extend the application areas of our products, like Chromebook solution, VR solution. Our team have always remained agile – this means we can respond quickly to external factors in our market. We have a history of adopting and reacting to market demands, Rockchip was the first IC company in the world to enter Portable multimedia player market(in 2005) and tablet market(in 2009). We were very pleased with results from our entry into the Chromebook market.
HEXUS: There are many alternatives for mobile graphics, with Imagination Technologies and Qualcomm also being strong in this area. Why does Rockhip predominantly use ARM Mali Graphics?
YanYan Xing: For Rockchip we want to have the flexibility to work with partners that suit our needs. In addition to ARM we also use other GPU, like Imagination Technologies.  Our team make decisions about which GPU to select balancing the performance requirement for the application. ARM is the world first IP vendor and they remain an important strategic partner.
HEXUS: Will Rockchip diversify its SoCs so that, in addition to the mainstream, it also caters for the real premium end of the market, usually characterised by cutting-edge silicon based on the latest process?
YanYan Xing: Yes, we are already expanding our AP so it can be implemented in key markets like Virtual Reality, Drone, Automotive electronics, Robot, smart POS and so on. We are excited about the possibilities of where are technology can go.