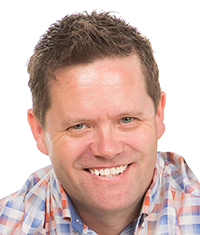 HEXUS has built close ties to a number of leading UK system integrators and we're always intrigued to hear behind-the-scenes tales of how the companies came to be, and where they go from here.
One of the most interesting success stories, in our estimation, is that of Quiet PC. Based out of Malton, North Yorkshire, the firm has built its reputation on providing high-quality components designed to reduce the noise of PCs. Soon to be celebrating two decades in the business, Quiet PC has become a go-to supplier for those of us who appreciate a whisper quiet or truly silent rig, and with passive cooling becoming a more mainstream choice, Quiet PC finds itself in an envious position.
To learn more about the company's approach to noise-free computing, HEXUS had the opportunity to quiz operations manager Paul Lee on all things Quiet PC.
1) What was the original inspiration behind Quiet PC?
Quiet PC was born out of necessity rather than inspiration. Glenn Garrett (the founder of Quiet PC) suffers from tinnitus and back in 2000 he was working on his PC and found the noise it generated greatly exacerbated his condition. He therefore looked for components around the web to see if it was possible to make his Pentium III-based machine quieter. Unfortunately back then there was no such company like Quiet PC, so he was unable to find the components he needed to quieten things down.
Glenn did come across a European company that was willing to provide him with samples on the basis that if he found they helped, Glenn would purchase one box of each component. The components in question were a CPU cooler, a hard drive enclosure and a power supply.
| | | |
| --- | --- | --- |
| Pentium III Radial Fin CPU Cooler | SilentDrive - Hard drive enclosure | Ultra-Quiet power supply |
Once Glenn installed the components the difference was massive and therefore, as agreed, he purchased a box of each component and registered the domain name quietpc.com and made them available for purchase, as a 'hobby' business.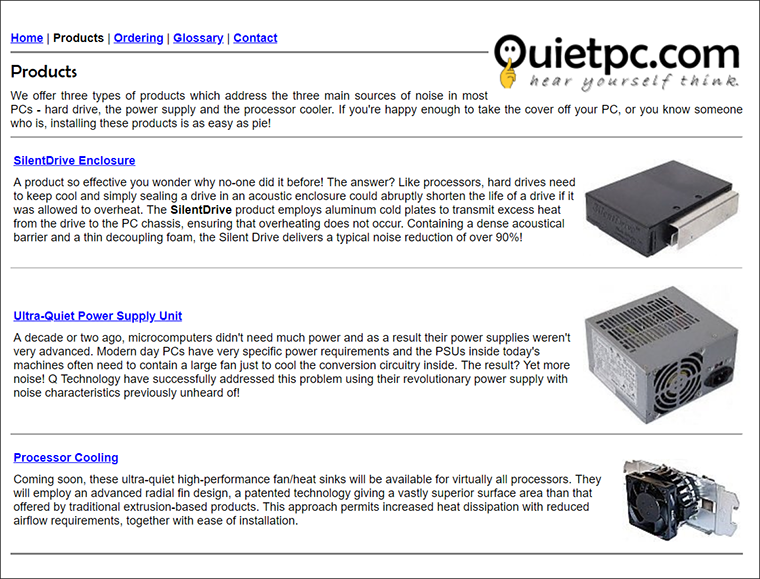 The first edition of Quiet PC's website.
2) How has the market for quiet PCs changed over time?
I have been with the company for 14 years and when I first started working here there was little or no focus from manufacturers on how much noise their PC components made, apart from the products Quiet PC sold of course.
This has changed dramatically since then. The vast majority of products will reference the amount of noise they produce, normally in decibels (dBA). Not only that; the names of some products have changed to indicate the amount of noise they make.
In principle I have no issue with this, but noise is very subjective and I have come across many products that claim to be "ultra-quiet" when in fact they are far from it! This makes it difficult for the customer to know with confidence whether the component they are buying is truly quiet.
3) Have we moved beyond merely quiet - are mainstream rigs ready to go fully silent? And how do you define a truly silent PC?
I don't think we have moved beyond quiet PCs yet, let alone silent PCs as the standard. The main reason for this is cost. Developing a product that is either quiet or silent requires extra research and development which increases the cost. Take for example take the humble CPU cooler. Companies like Intel and AMD often bundle their processors with CPU coolers which are designed to keep the temperatures within range. Even though they do this adequately they are not particularly quiet, especially under load. Therefore if a customer is looking for a quiet or silent PC then there are additional costs involved, not least for the CPU cooler. It's important to consider other components in the PC that generate noise such as the power supply, graphics card and case fans. Opting for quiet versions of these components can often increase the cost of the whole system.
On the plus side, a lot on PC component manufacturers seriously consider how much noise their products make. This is a great but it does cause us some frustration at times. Having been involved in quiet computing for the past 18 years we know the difference between quiet and silent, but it seems that some manufacturers don't. It is easy for them to market their products as being quiet or silent when in fact they are anything but that. One thing that can really grate is when a manufacturer markets their product as being "ultra-silent" (or similar), when quite clearly it has moving parts. Anything that moves will generate some noise to a degree. The definition of the word "silent" is "not making or accompanied by any sound", therefore it is either silent or it isn't; there is no variation. *rant over* J
Before we consider stocking any new products we evaluate them to determine the noise output and ensure that their performance meets our high expectations. When we claim that a PC we sell is silent then it is just that. If it is not silent then it must be quiet, or ultra-quiet, or super-quiet.
4) Do you believe there is a market for quiet servers and workstations?
Absolutely. In fact we offer a range of workstations on our website which, (depending on the system) can be configured as a silent or very quiet system.
Servers are slightly different. It is common for the big-name brands, (such as Dell, HP etc.) to use bespoke components in their builds, so as a result it is not always possible to replace them with standard or quiet versions. That aside, we offer many products compatible with Intel's LGA2066 socket and assuming the motherboard can accommodate standard an ATX power supply, there is no reason why you cannot build a quiet server.
5) Given the generally lower TDP for modern components, is it becoming more difficult for Quiet PC to differentiate itself from other system integrators?
Ten years ago this November Intel released the first generation of its Core series of CPUs, codenamed Lynnfield. The Core i5 750 had a Thermal Design Power (TDP, how much power it uses at full load) of 95 watts and a lithography (die) of 45nm. As the years have gone by, the TDP of the mid to high end Core desktop CPUs has hovered around the 85-95W mark, while the die of the CPU has shrunk considerably. For example, the current Intel Core i5 8600K 8th generation CPU has a TDP of 95W, but its die is only 14nm. This reduction in die size has allowed Intel and AMD to produce better processors year-on-year while the TDP remains sub 100W.
As for system integration, we differentiate ourselves from others in a number of ways. Firstly, being a small company it is very important that we offer the very best customer service possible from pre to post sales and technical support for as long as the customer has the PC. We gauge our customer satisfaction on Trustpilot where we are proud to see that our score currently stands at 9.8 out of 10 and we are number 1 in the Desktop Computer category.
Secondly, buying a PC can be a costly affair so it is very important to us that the customer gets the PC they need. We like to talk to our customers prior to purchase so we can offer our expertise, and if that means they don't need that expensive component they initially thought they did then we will suggest this and often be able to offer more suitable or cheaper alternatives.

Finally and perhaps most obviously, all of our PCs are quiet if not silent. The amount of noise output our PCs generate is extremely important to us - we are Quiet PC after all! No other system integrator offers a wider range of silent PCs than us, whether it is something as small as a fanless UltraNUC or something as big as the powerful A890 Silent Desktop (which HEXUS reviewed last year). We believe we have all aspects covered.
6) Which component, typically, is the biggest offender in terms of noise output, and how do you combat it?
This is a difficult question to answer because not all PCs are the same. Our experience tells us that it is mainly the CPU cooler that produces the most noise, especially if it has a stock cooler installed. Having said that, the power supply and/or any cases fans can be just as loud.
I once recorded a series of video clips with HEXUS, one of them was called "Identifying the Noise". Even though this was recorded eight years ago, the principle of how to identify where the noise is coming from is still the same. So for anyone looking to reduce the noise of their PC, I recommend taking a look.
Once the noisiest component has been identified there are often several ways to solve the problem. We can either replace it a quieter alternative or modify it in some way. It all depends on which component it is.
7) How does building a quiet PC impact your approach to warranty?
It doesn't. As standard we offer a 2-year collect and return to base labour and parts warranty with all of our PCs. This can be increased to 3 years for an extra charge. This means if any component in the system we have supplied develops a fault within the warranty period we will replace it free of charge, even if the manufacturer's warranty for the component is only for 12 months. And often, because our computers have fewer moving parts (e.g. high speed fans), they're inherently more reliable anyway because bearing failure is reduced/eliminated and dust build-up is significantly reduced.
8) Which three components are most critical when designing a quiet PC?
The answer to this question all depends on what the PC is being used for. The first question we ask our customers is, "do you want the PC to be quiet or silent?" because not all PCs can be silent; for example PCs based around Intel's Extreme CPUs (X299 chipset). Once we gauge the acceptable level of noise (if any) it is all about building a PC for the customer's needs. If they are looking for an office PC that has to be silent then the three most critical components would be CPU, CPU cooler and finally the physical size of the PC. For this type of PC there is no need for an all singing and dancing motherboard or even a graphics card. We just need to make sure we tick all the boxes for the customer.
Obviously the three most critical components for a quiet gaming PC can be totally different. Noise is important, especially when the PC is not being used for gaming. But during gaming, a certain amount of noise is often perfectly acceptable as the user will usually be either wearing headphones or have game audio coming from the speakers, which will drown out a lot of the PC noise. There can be often many critical components for a gaming PC as the performance of the machine can be determined by a number of factors, for example: graphics card, CPU, RAM, storage size and type (SSD or HDD) and of course the components that generate noise!
9) In your experience, is liquid or air cooling the better option when wanting to keep noise output to an absolute minimum?
I've mentioned before that anything that moves generates noise. Water cooling is no exception. Not only are fans required to cool the radiators but you also need to consider the noise the pump makes.
So from a noise point of view air cooling is easier to manage as you can control the speed of the fans. This unfortunately is not possible with water pumps. That being said if you opt for a pump that has been designed to run quieter then it is certainly possible to have a very quiet water cooled PC. But if noise is of the greatest importance, then it is easier to control the noise by air cooling.
10) If someone has a noisy PC or Mac, can you make it quieter for them?
Of course. We offer a services where we can collect a customer's PC and quieten it down for them by installing quieter components. This is assuming their PC is compatible with standard PC components. And if that is the case, it's often possible for us to make it totally silent if required.
The cost of such a service all depends how quiet (or silent) they want their computer to be and which components need to be replaced. The process would be fully discussed and managed by our technical team who have many years of experience making PCs run more quietly.
11) What kind of customer typically buys a quiet PC, and are they necessarily different to regular PC buyers?
There are many people who can benefit from a quieter PC. Generally we find this type of person to be someone who generally works from home and does not want the distraction of noisy fans. We also sell our PCs to customers who use their computers for recording audio or music, as they do not want their microphones picking up any fan noise.
We sell to many businesses but they are often small companies where the noise of the PC is important. In larger offices computer noise is less of a concern because of the high level of background noise from other sources such as air conditioning, call centre chatter, etc. Creative professionals often appreciate a quiet PC because their computer needs to be powerful but they don't like the distraction of noise.
12) What is the biggest project you've worked on?
This is not the biggest project we've worked on but it was one of the most enjoyable. One of our customers specialises in creating VR experiences and they contacted us to ask if we could supply ten high-end gaming PCs for their client who was exhibiting at Wimbledon in 2016. This client turned out to be Jaguar and they commissioned our customer to develop a VR experience featuring Andy Murray to give people who visited their exhibition a 360 degree view of the centre court as well as a fly-by through the All England Lawn Tennis Club.
It is ironic but there was no need to make these PCs quiet has they were installed in the middle of Waterloo Station! But it was a blast designing the PCs and following up by overseeing their installation at the exhibition. Unfortunately we never got to meet Andy!