Stoakley in the flesh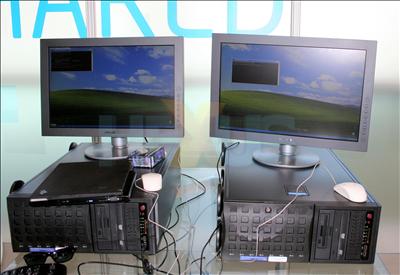 A couple of Stoakley machines just waiting for some impromptu benchmarking. All we had to do was turn up on the third floor of the Moscone Center; not a single security guard asked us for credentials!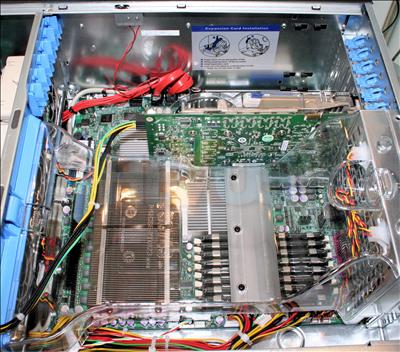 Whipping off the lid shows Stoakley's constituent parts - a couple of 45nm Harpertown processors and, on this particular Supermicro Seaburg motherboard, 8 FB-DIMM slots each populated with 2GiB of 800MHz-rated memory, for a total of 16GiB.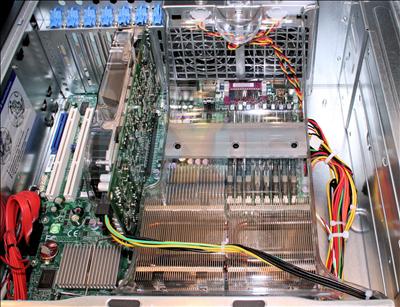 A rotated view highlights a workstation-based NVIDIA Quadro FX 4600 graphics card that's usual fare for an HPC system. As we mentioned earlier, the Seaburg chipset supports PCIe Gen 2.0, doubling bandwidth to 5GB/s. The Supermicro X7WDA carries 4 mechanical x16 PCIe slots for maximum graphics flexibility.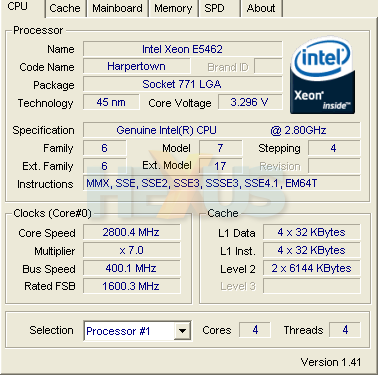 The pair of 45nm, 2.8GHz-clocked Harpertown processors, identified as E5462, are marked-out by operating a native 1600MHz FSB and carrying 12MiB of L2 cache. TDP is 80W per processor, by the way. Intel's range-topping 3.2GHz Harpertown's (X5482) extra speed will be manifested in a higher TDP of 120W.

Note, too, that Harpertown is endowed with SSE4.1 - 47 new instructions that aid in speeding-up compatible media and imaging applications by increasing compiler efficiency. A further 7 additional instructions, known as SSE4.2, will be allocated to the upcoming Nehalem core.