Cortex-A35: ARM's most efficient application processor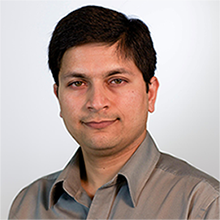 This is a guest blog by Kinjal Dave, CPU Product Manager at ARM. The views expressed in this blog are his and his alone. We invited Kinjal to share some of his thoughts on Cortex-A35, announced today as the first CPU in ARM's new family of high-efficiency ARMv8-A processors.


The announcement of Cortex-A35 today marks the beginning of a new family of ultra-high-efficiency application processors from ARM. So, what are the key features of Cortex-A35 and what benefits does it provide compared to previous processors in its category?
Before we go into the details of Cortex-A35, a brief background on the existing Cortex-A5 and Cortex-A7 processors from ARM will be useful.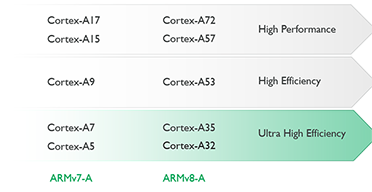 The launch of the Cortex-A5 processor in 2009 ushered in a new era of high-efficiency mobile computing by implementing the then modern ARMv7-A architecture profile in extremely low power and area profiles. The industry leading efficiency benefits offered by Cortex-A5 enabled the rapid proliferation of ultra-affordable entry smartphones. The Cortex-A7 offered further performance and efficiency improvements along with support for ARMv7-A extensions. Additionally, the Cortex-A15 and Cortex-A7 processors formed the first big.LITTLE CPU pair thereby redefining efficiency across all mobile markets.
Both the Cortex-A5 and Cortex-A7 processors have been tremendously successful not just in mobile but in other diverse markets like embedded, wearable computing and offload processing in enterprise applications. Focusing on the success of these processors in the mobile market alone, Cortex-A5 and Cortex-A7 have shipped in over 2Bn entry smartphones to date.
Looking into the future, it is estimated that more than 1Bn entry smartphones will be shipped in 2020. This implies an 8% compounded annual growth rate, making entry mobile the most rapidly expanding mobile market segment.
This rapid growth in entry smartphones sets the context for Cortex-A35. The requirements for next-generation entry mobile solutions converge in three key requirements – deliver more performance, consume lower power (thereby improve efficiency), and provide premium features in an affordable cost point. The Cortex-A35 processor delivers on all three: it brings modern 64-bit compute capabilities to the next billion smartphone users while delivering efficiency improvements compared to the previous generation of processors targeting entry markets.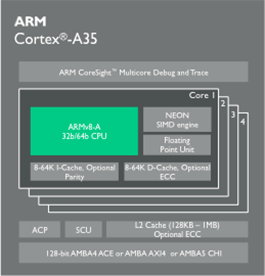 So, what benefits does the Cortex-A35 offer compared to previous generation cores for powering the next billion smartphones?
The Cortex-A35 has several key feature enhancements compared to Cortex-A7. I will focus on three:
Improvements in efficiency - higher performance and lower power
New power management capabilities to lower power consumption and increase battery life
Full ARMv8-A architecture support – 64-bit capable with backwards compatibility