Benchmarks

When it comes to measuring the capabilities of today's central processing units (CPUs), few metrics are as highly regarded as PCMark. The latest version of this popular benchmark provides an array of tests that pinpoint how well PCs handle common tasks such as web browsing, writing, photo editing, video chat and casual gaming.
This cutting-edge benchmark "measures and compares PC performance using real-world tasks and applications. Futuremark groups these applications into scenarios that reflect typical PC use in the home and at the office. This approach ensures that PCMark measures the things that matter, highlighting performance differences that will be apparent to end users and consumers."
AMD believes that PCMark 8.2 provides an accurate assessment of what today's latest CPUs are capable of, tapping into the processors' capabilities with industry-standard software interfaces such as OpenCL. A higher score in this benchmark usually correlates with a better experience when using PCs for everyday applications. With the focus on the capabilities of both the CPU and GPU portions of these processors, which AMD refers to as Accelerated Processing Units (APUs), 16 modern chips - nine from AMD and seven from Intel - have been tested independently.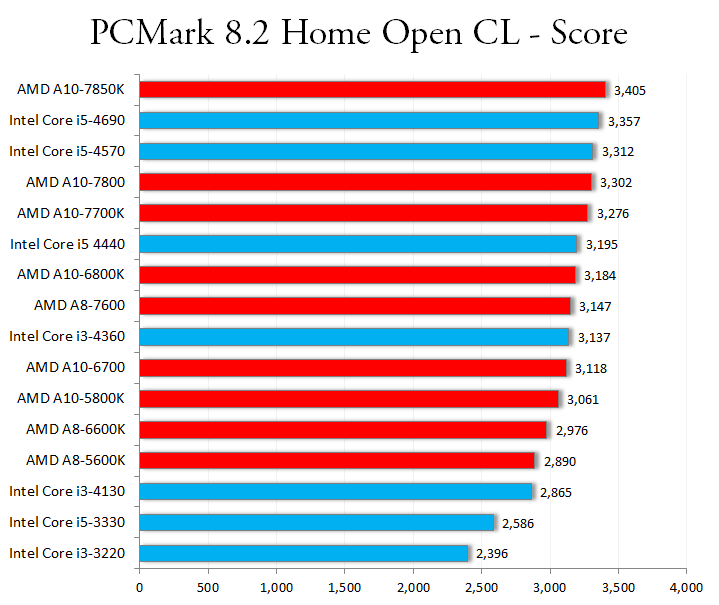 The benchmark results harness the strengths of the AMD and Intel architectures, with both providing core processing and integrated graphics from a range of chips that span up to three generations.
Yet looking at pure performance alone does not factor value into account. Performance-comparable AMD APUs tend to provide more value than their Intel counterparts. The value argument is expressed as the PCMark score divided by the price in United Kingdom pounds, represented by the best in-stock price available at Scan.co.uk.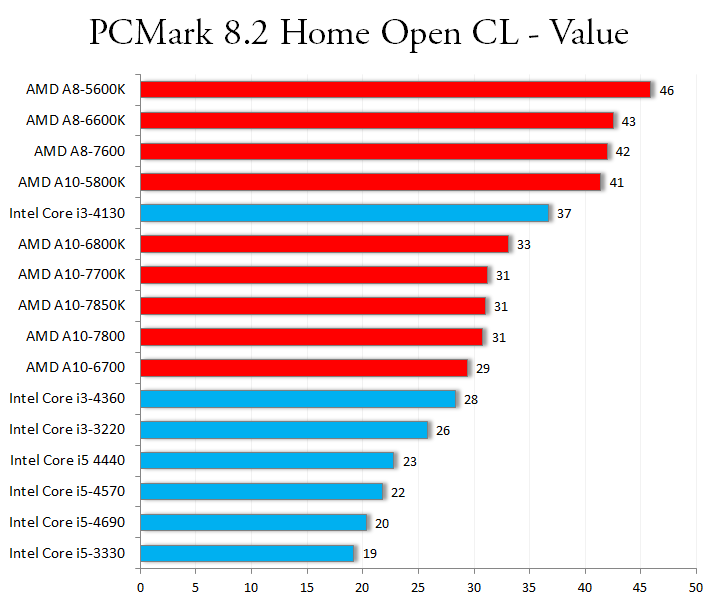 Once value is taken into account, AMD is the clear leader, offering the best bang for buck for the consumer. As obvious examples, the first four slots are filled with AMD A8 and A10 APUs from the previous three generations. It's telling that the bottom five places are all occupied by Intel, whose performance parity is offset by higher prices. It is worth knowing that all AMD APUs in this list can be run on the same FM2+ chipset-based motherboard, providing wide compatibility between APU generations. Intel, meanwhile, has shifted from an LGA 1155 platform to LGA 1150. This means that older 3000-series CPUs cannot be run on a new motherboard, adding an extra wrinkle into the buying process if you have already invested in Intel technology from two years' ago.
Why not give the benchmark a go by downloading it from the above link and posting your own score, and learn how the numbers were calculated by clicking on the specs and feeds button. If anything, they provide a sanity check for your existing or new build, ensuring that it is working in tip-top fashion from the get-go.
A wide range of AMD APUs are available to purchase from Scan Computers.
For full disclosure, this article is sponsored by AMD.