Inside the 3XS Carbon Fluid Extreme Xp SLI
When contemplating potential builds with the 1000D, you're left wondering what you might do with the second PC. This quandary is emphasised by the fact that the main system is likely to be so powerful that it should quite easily be able to handle all your streaming needs without impacting everyday performance. But we're clearly thinking about it the wrong way - caution and reasoning need to go out of the window when you add a case such as this to your shopping list.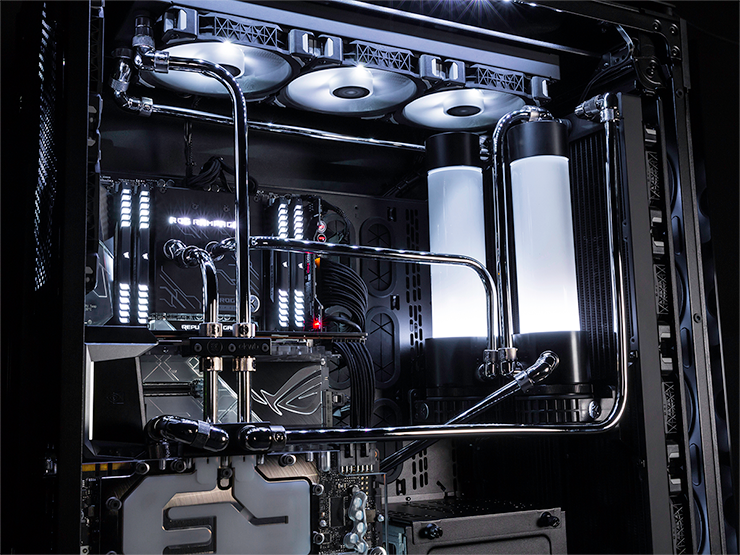 Whether or not you'd want two PCs in one is missing the point. Fact is, you can, and Scan dutifully obliges with a whole host of seriously epic hardware. The primary PC has an Asus ROG Rampage VI Extreme E-ATX motherboard topped with an Intel Core i9-7980X processor, 64GB of Corsair Vengeance RGB DDR4-3600 memory, not one but two 12GB Nvidia Titan Xp graphics cards in SLI, a 480GB Intel 900P as the system drive and a 1TB Samsung 970 Evo for all your games. There's also an 8TB Seagate hard disk for good measure, while power is sourced from a Corsair HX1200 Platinum supply.
The 18-core chip on the E-ATX build is naturally overclocked to 4.4GHz across all cores, and the CPU and GPUs are cooled by a custom watercooling loop comprised of an EK ROG Rampage CPU Monoblock, two EK Acrylic Glass GPU blocks with backplates, an EK Revo D5 RGB PWM Pump and Reservoir, EK Cool Stream 480 and 420 radiators, chrome hardline tubing and seven fans - four Corsair ML140s and three ML120s.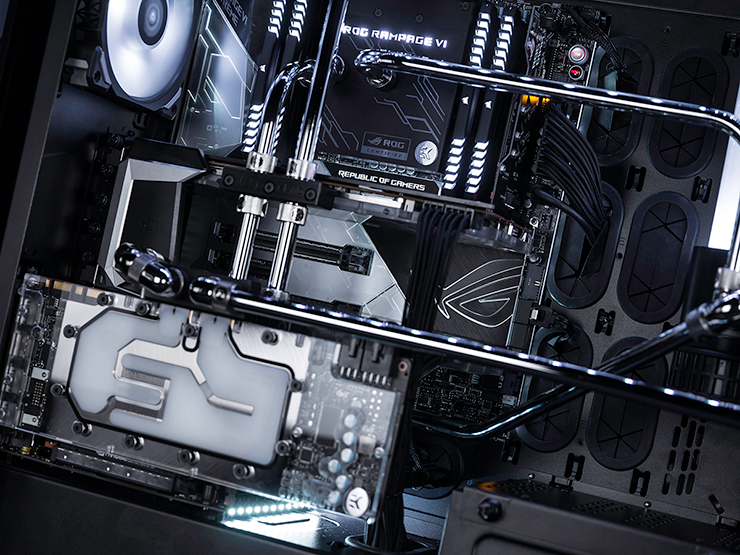 More power than most mere mortals are ever likely to be need, but just in case, PC number two employs an Asus ROG Strix Z370-I Gaming motherboard armed with an Intel Core i7-8700K processor, 32GB of Corsair Vengeance LPX DDR4-3200 memory and a 12GB Nvidia Titan Xp graphics card. Storage comes courtesy of a 1TB Samsung 970 Evo SSD and an 8TB Seagate hard disk, and the secondary power supply is a Corsair SF600.
Cooling takes an equally high-end approach, with an EK Supremacy Evo CPU block, an EK Acrylic Glass GPU block with backplate, a 480mm EK Cool Stream Radiator, four Corsair ML120 fans and another EK Revo D5 RGB PWM Pump and Reservoir all hooked-up via the same eye-catching hardline chrome tubing.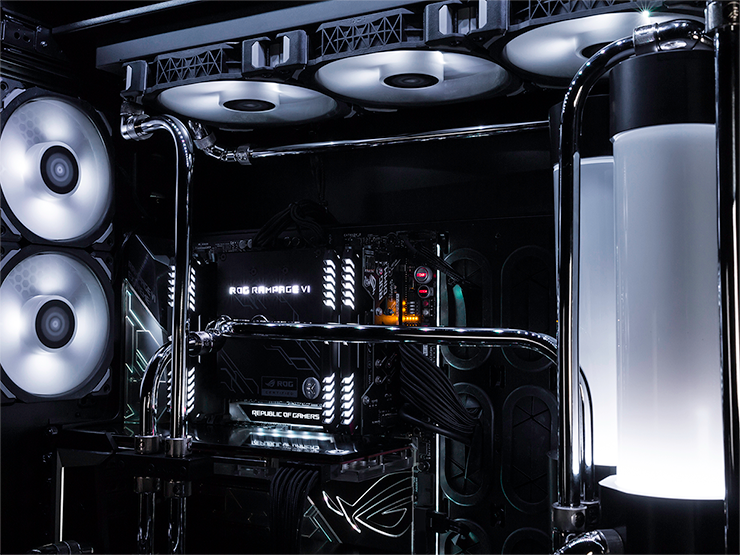 A seriously impressive build, and when you put it all together you have a total of 24 processor cores, 96GB of DDR4 memory, and three Titan Xp graphics cards, all of which are overclocked with an extra 150MHz on core and another 500MHz on memory. Bragging rights aplenty, and if the specs alone don't impress, the benchmark results likely will.
The E-ATX X299 system scores a massive 4,254 in the Cinebench CPU test, memory bandwidth is measured at up to 99,000MB/s, and the dual Titan Xp graphics setup spits out a score of 18,993. in 3DMark Time Spy. Factor in sequential storage speeds of up to 2,700MB/s and you have the quickest numbers we've ever seen from a turnkey PC. Heck, the Blender BMW test that features in our CPU reviews takes just 108 seconds to complete, compared to, say, 509 seconds on a Core i7-6700K from a few years back.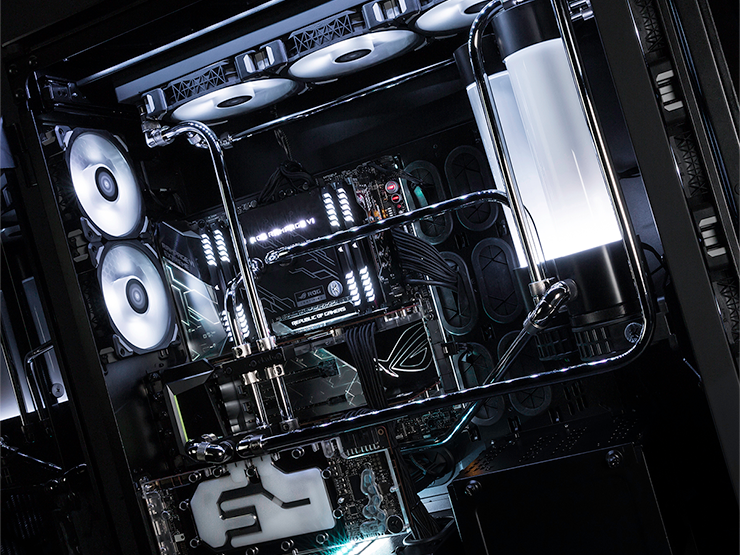 Of course, those numbers are just the starting point as the auxiliary Mini-ITX system ain't too shabby, either. The Z370 build scores 1,586 in Cinebench, with memory bandwidth of up to 49,000MB/s, and a 3DMark Time Spy score of 11,007.
You shouldn't expect any less for £13,999, but the size, cost and complexity of a dual-system build with a chassis as audacious as the Corsair Obsidian Series 1000D carries plenty of risk; you'll want at least two people to lift the thing onto a desk. We're of the opinion it's arguably too big an ask for even the hardened enthusiast, but if you love the case and for some reason need two PCs in one, Scan Computers has demonstrated the wherewithal to deliver a truly immense machine.
The 3XS Carbon Fluid Extreme Xp SLI is now available to configure and purchase from Scan Computers, and don't worry about leaving such a premium machine in the hands of a courier; a team of 3XS engineers will hand-deliver each build and the entire rig is backed by a three-year warranty as standard.