Enhanced Gaming Experience: AMD Radeon Software Adrenalin 2020 Edition
Next-generation RDNA hardware deserves forward-looking and feature-packed software. Enter the AMD Radeon Software Adrenalin 2020 Edition.
Available now, the latest software companion for AMD Radeon graphics cards touts a completely revamped user interface, designed to provide quick access to key features that can help maximise the gaming experience. Described as "the most robust AMD Graphics driver ever released," Adrenalin 2020 Edition offers an enviable mix of features, stability and performance, and that starts right at the very beginning, with a new one-click setup promising a 34 per cent faster install time.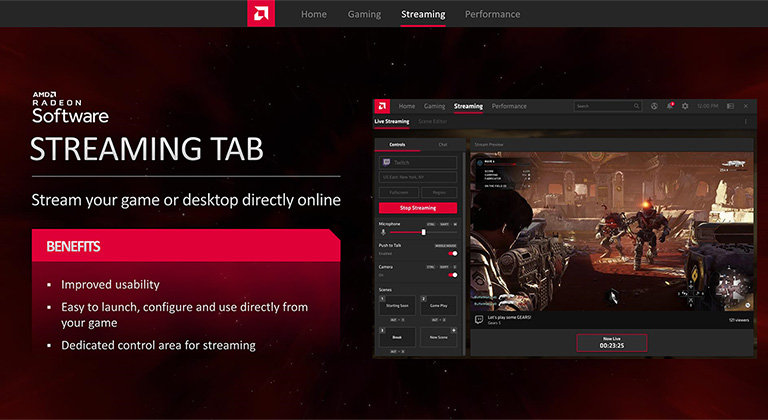 Fancy your chances as an influencer? Then head straight to the dedicated streaming tab, where you'll find all the relevant controls placed front and centre. These include the ability to select your preferred streaming platform, microphone and camera controls, a scene switcher and a live view of the stream as it is seen by your audience. For the more advanced streamers, there's even a built-in editor, giving broadcasters the ability to drag, move and re-size additional on-screen elements with minimal fuss.
Making Games Look Great
Whether you're a streamer or not, it is imperative your games look the part, and Radeon Software Adrenalin 2020 Edition has the tools to help make it happen. Retro gaming is all the rage, and to help maintain that gorgeous pixel-art styling, the AMD driver now features a dedicated Integer Scaling option that can be enabled by a single click.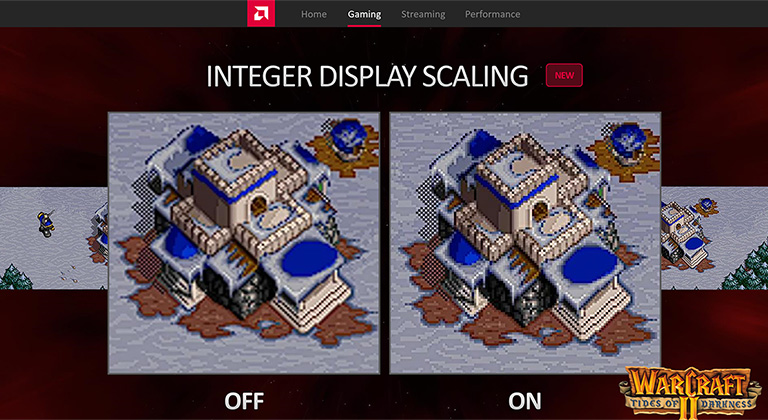 Helping preserve the old-school aesthetic synonymous with certain titles, Radeon Integer Scaling allows the GPU to replace a single pixel with four or more pixels to help maintain the sharp, blocky visuals you know and love. Better still, you can expect those classic retro looks with virtually no performance penalty.
They say the small details are what matter, and to that end you can rely on AMD Image Sharpening to enhance on-screen visuals. Designed to counteract unwanted byproducts of anti-aliasing such as blurring and softening of scenes, Image Sharpening puts the emphasis back on clarity by employing the contrast-adaptive sharpening (CAS) algorithm of FidelityFX to dynamically adjust the level of sharpening based on contrast.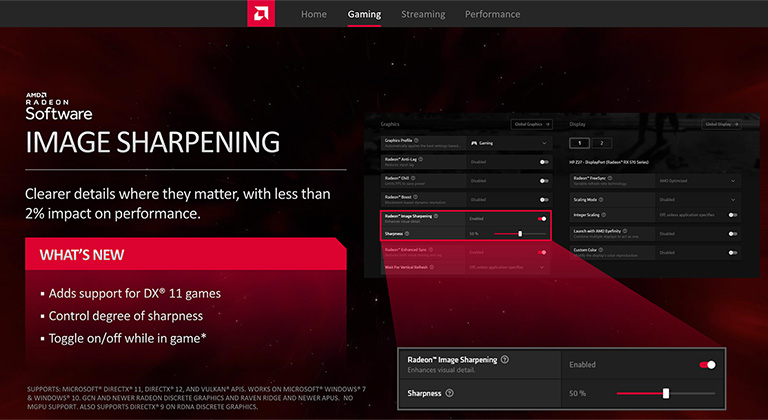 Tapping into the abilities of FidelityFX ensures that sharpening is applied to the correct areas of a scene - interior objects can appear clearer without distorting high-contrast outdoor elements - and rather than rely on developer integration, Image Sharpening is compatible with many of today's most popular graphics APIs. Games based on DX11, DX12 and Vulkan offer Radeon Image Sharpening with graphics cards based on both the GCN and RDNA architectures, and newer RDNA GPUs also support DX9. Once again, to enable Image Sharpening, simply head over to settings and toggle the switch. Pro tip: there's even a slider to adjust the amount of sharpening!
Performance At Your Fingertips
Games not only need to look great, they also need to be fast, fluid and responsive. AMD Radeon Software Adrenalin 2020 Edition has you covered with innovative features such as Radeon Anti-Lag, which dynamically optimises the pacing of CPU work to better align with GPU output, helping achieve a low-latency experience that all gamers can appreciate.
Want low-latency goodness combined with fluid action? Then the all-new Radeon Boost could be just what you're looking for. This clever piece of tech works by recognising user inputs such as mouse movement to anticipate fast-paced camera rotation and dynamically lower the rendering resolution to boost framerate.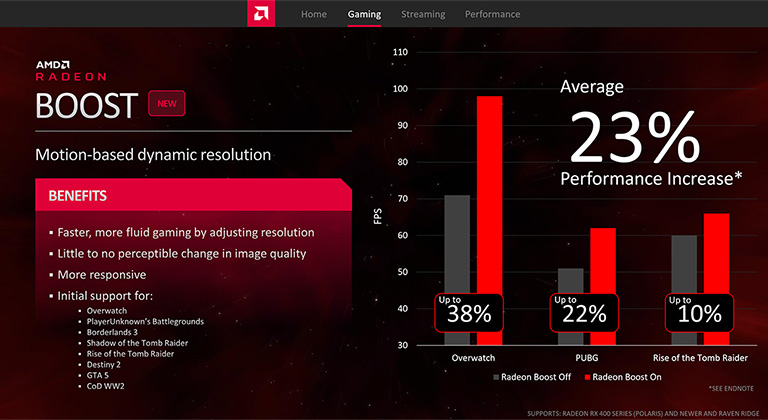 Think of it this way, when you hear an enemy approaching and spin around quickly to respond, do the visuals need to be pin-sharp during that moment or do they blur into insignificance? This is an area in which Radeon Boost can improve performance by as much as 23 per cent, with barely any perceptible degradation in image quality. A technology to keep an eye on, though at this stage only the above-listed titles are supported using the DX11 API.
Prefer to take performance into your own hands? Then you're in luck, as the dedicated Performance tab offers detailed gaming metrics and a completely overhauled tuning section that puts overclocking options within reach of both novices and power users.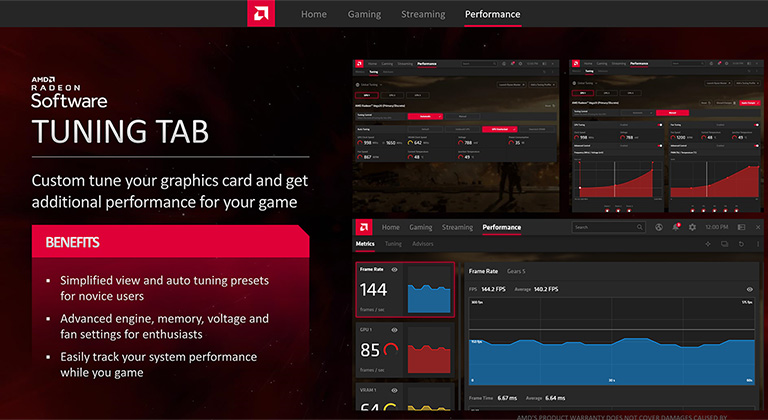 Introduced as a replacement for WattMan, Radeon Software's tuning controls include the ability to automatically undervolt or overclock the GPU, as well as granular settings for frequency, fan speed, and voltage.
Want more? AMD Radeon Software Adrenalin 2020 will also serve as a one-stop repository for games from multiple third-party launchers, there's a built-in web browser allowing you to see walkthroughs and guides without having to leave the game, and AMD Link has a revamped UI for remote streaming of PC games to your favourite Android or iOS device.
All the features, all in one place, all for free. Download today at amd.com/support.