7nm RDNA: Outstanding Performance for Every Budget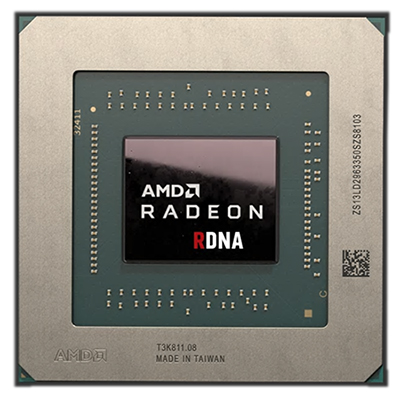 You might have heard of a little something called RDNA. Built from the ground-up to revolutionise the graphics industry, RDNA is the architecture powering AMD's latest-generation of 7nm gaming GPUs, as well as next-generation games consoles from both Microsoft and Sony.
It would not be a stretch of the imagination to suggest that the future of gaming is intrinsically linked to RDNA, and with developers hard at work creating a new generation of visual fidelity, AMD technology is the driving force in what comes next. The PC, as ever, is one step ahead, and with the launch of the Radeon RX 5500 XT, PC gamers can already choose from a range of RDNA GPUs spanning multiple price points.
Taking Shape: AMD RDNA Graphics

Radeon RX 5700 XT

Radeon RX 5700

Radeon RX 5500 XT

Launch date

July 2019

July 2019

December 2019

Codename

Navi 10

Navi 10

Navi 14

Architecture

RDNA

RDNA

RDNA

Process (nm)

7

7

7

Transistors (bn)

10.3

10.3

6.4

Approx Die Size (mm²)

251

251

158

Shaders

2,560

2,304

1,408

Texture Units

160

144

88

ROP Units

64

64

32

Boost Clock (MHz)

1,905

1,725

1,845

Game Clock (MHz)

1,755

1,625

1,717

Peak SP TFLOPS

9.75

7.95

5.20

Memory Type

GDDR6

GDDR6

GDDR6

Memory Size (GB)

8

8

8 / 4

Memory Clock (MHz)

14,000

14,000

14,000

Memory Bus (bits)

256

256

128

Max Bandwidth (GB/s)

448

448

224

PCIe Support

Gen 4

Gen 4

Gen 4

Power Connectors

6+8

6+8

8

TDP (watts)

225

180

130

Launch MSRP

$399

$349

$199 / $169
In the high-end segment, both the Radeon RX 5700 and RX 5700 XT continue to offer outstanding gaming credentials at a demanding 1440p resolution. With up to 2,560 shaders, a high-speed 8GB GDDR6 frame buffer connected via a 256-bit bus and a doubling of bandwidth via PCIe Gen 4, the $399 and $349 cards continue to serve as prime examples of what RDNA can deliver in the enthusiast scene.
Starting December 2019, the benefits of RDNA architecture extend to the mainstream, with Radeon RX 5500 XT available from as little as $169. The new baby of the bunch, available with either 4GB or 8GB ($199) of high-speed GDDR6 memory, arms gamers with 1,408 shaders, 88 texture units, 32 ROPs, a 128-bit memory bus and, in keeping with its siblings, support for forward-looking PCIe Gen 4.
The on-paper numbers tell only part of the story. Designed to be significantly more efficient than the outgoing GCN architecture, RDNA supports dual SIMD32 instructions with a single-clock issue, rather than a four-clock SIMD16, and each RDNA cluster unit is bolstered with an additional scalar unit and secondary scheduler to effectively double the instruction rate. The balanced, elegant design benefits from dedicated L1 cache, improved compression algorithms, and reduced latency, allowing for high-quality visuals with lower power consumption than any previous Radeon hardware.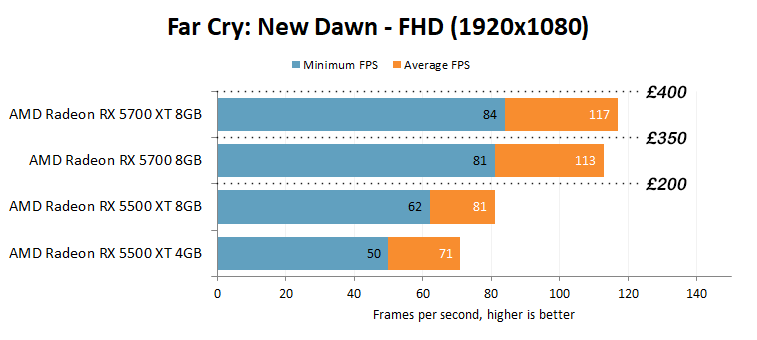 Benchmarks reveal that at a full-HD 1080p resolution, RX 5700 Series cards may be deemed overkill, particularly in the face of Radeon RX 5500 XT, which can deliver a smooth 1080p60 experience for under £200. Want an extra layer of future proofing? An 8GB Radeon RX 5500 XT fits the bill without breaking the bank.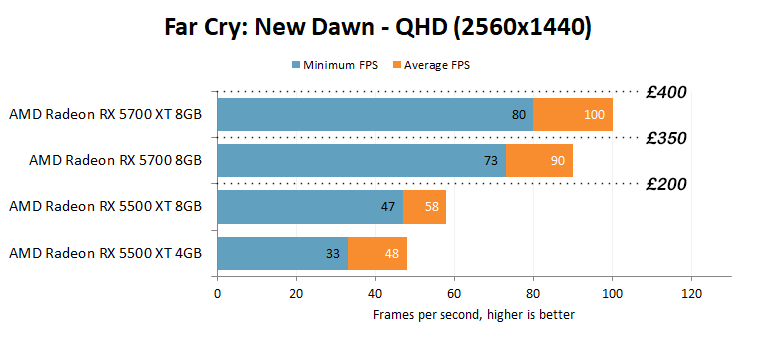 1440p is the RX 5700 Series' bread and butter, with both models capable of delivering in excess of 60 frames per second at a QHD resolution with image quality settings dialled all the way up to maximum. A high-resolution monitor is essential to make the most of such cards, and of course, each and every RDNA graphics card offers full support for exclusive technologies such as FreeSync, Anti-Lag and Radeon Boost.
2020 is shaping up to be a great year for gamers, and whatever your budget, there's an RDNA Radeon for everyone.