What's it like as a tablet?
Following the initial product announcement and a brief press demo, Nvidia sent us our very own 16GB Shield Tablet (£240), along with a Shield Controller (£50) and a Shield Tablet Cover (£25). The hardware has only been in our hands for a matter of days, but we're ready to share some early thoughts.
First of all, look past the Shield Tablet's gaming credentials for just a moment, as this is in fact also a very competent 8in Android tablet. It isn't the thinnest device in the world - believe it or not 9.2mm can now be considered chunky - but Nvidia's build quality is good throughout and the soft-touch-coating on the rear feels lovely to hold.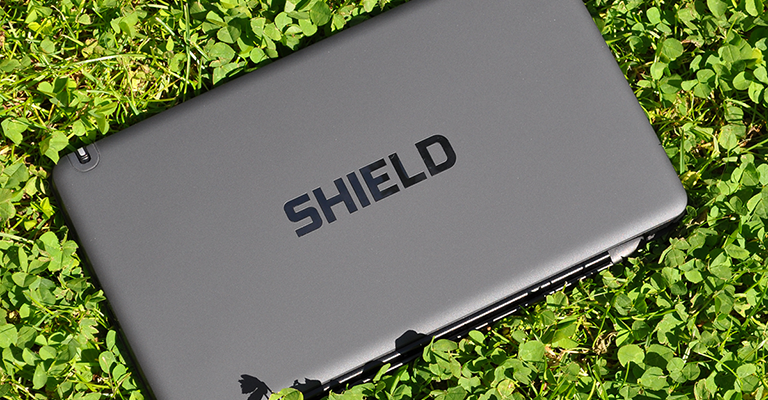 There's a very slight hint of flex if you apply real force to the chassis, but our first impressions are that it will stand the test of time. From a build point of view, our criticism is limited to the power button and volume rocker positioned along the top-left edge: both are a little too spongy for our liking and could use a tactile click.
And let's talk about the stylus - which you may be thinking has no place on a gaming device. Well, we're gamers who have work to do, and we can honestly say we're glad the stylus has been included. Nvidia is using its own GPU-accelerated DirectStylus 2.0 technology and the end result is good: pen input feels precise with no unwanted palm recognition, and the stylus responds well to varying degrees of pressure. Better still, the latest OneNote beta for Android now includes inking support (finally!).
Given the speed of the Shield Tablet, we've been left pleasantly surprised by how useful it can be as a compact productivity tool. It's very good for email, note taking, web browsing and keeping up to date with events, and of course it runs vanilla Android, which in our estimation is almost always preferred.
Beyond the basics
A variety of factors make the Shield Tablet enjoyable as an everyday mobile device. On top of the underlying performance and solid build quality there's the aforementioned stylus, an IPS display with excellent viewing angles and a couple of features that make Nvidia's offering better than your average Android solution.
The most obvious are the stereo speakers that flank the 8in display. We've become accustomed to sub-standard audio quality on small tablets, but that thankfully isn't the case here. Shield Tablet's speakers are actually quite loud, with no distortion even at high volume, and they somehow have the ability to deliver a well-rounded sound - highs are crisp and there's even a slight hint of bass. The fact that the speakers are aiming straight at you obviously helps, and we appreciate their length, too, as the speakers aren't inadvertently muffled when you're holding the device in landscape mode.
Strong built-in audio is obviously at hand to cater for gamers, yet it's a real boon for general multimedia use, as catching-up with your favourite shows on Netflix at 1080p is thoroughly enjoyable from an audio and visual perspective. If that sounds like something you're likely to do, it's well worth considering the Shield Tablet Cover - it looks sleek, protects the display, locks on securely via a pair of magnetic connectors and can be used to prop-up the tablet in a choice of three angles.
Camera quality
The cameras, too, are adequate for their intended usage scenarios. Nvidia reckons both the rear and front shooters are of near-equal importance, as Twitch streaming with live commentary is all the rage in today's gaming world.
| | |
| --- | --- |
| | |
| Front 5MP - Outdoor | Front 5MP - Outdoor |
| | |
| Front 5MP - Outdoor | Rear 5MP - Outdoor |
| | |
| Front 5MP - Indoor | Rear 5MP - Indoor |
Shield Tablet's front camera takes reasonable shots in well-lit outdoor environments, but a lack of a flash does of course limit low-light results. The quality of the rear camera wasn't quite as impressive - an equal megapixel count clearly doesn't tell the full story - however it's well above average for selfies or video calls. The position of the two cameras is also of interest. Nvidia has angled the rear shooter so that it points toward the user, but the front camera is a little more awkward - it's positioned near the corner of the device and aimed straight, meaning you have to hold the tablet to the side of what it is you're trying to capture.
Not quite Retina
The stylus, speakers, cover stand and cameras can all be filed under 'good,' so what else is there that doesn't quite offer the same level of polish?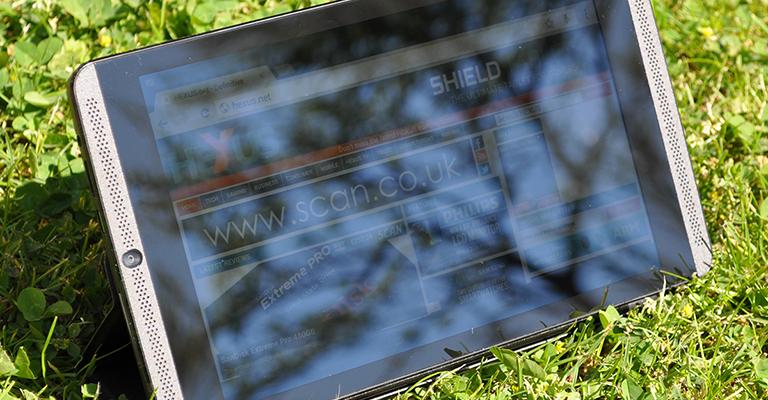 Well, the 8in IPS display isn't as spectacular as it could have been. Viewing angles are admittedly admirable on all axis, and a glossy coating adds real vibrancy to colours, but it is very reflective and consequently isn't best suited to outdoor use. The resolution, too, isn't cutting edge - 1,920x1,200 can hardly be described as disappointing, yet it doesn't offer the same visual wow factor of, say, a 2,048x1,536 Retina iPad.
Still, that doesn't detract from the fact that, as just a tablet, the new Shield is a significant step up from Nvidia's first Tegra Note 7. More memory, faster performance, better audio, improved cameras and a refined stylus are all part of the appeal. Take all the gaming elements out of the equation and this remains a very competitive 7.9in Android device.