While a rival UK mobile operator is trialling complete network-level ad-removal for its customers, Tesco is asking if its customers would like to opt in to view more ads. The Tesco Xtras app presents users with "ads, offers and content" when they unlock their phones. In return for that time/patience/battery life, Tesco will cut monthly contract bills by £3.

So, how do you get £3 off your monthly bill? Tesco says that you must install and enable the app linked to at the Google Play Store above. Once installed, you sign in with an email or your Facebook account. You are then asked to tell the app some preferences so that you get advertising and offers that are relevant to your interests. After that time, with the app active, you start earning credit for your bill reduction.
Tesco says that "every few times you unlock your phone you'll see relevant ads, offers and content". Don't worry, there won't be any video-based promotional screens. You can click the ad/offer to learn more, close the ad with the upper right 'X' icon, and some offers will be able to be saved for later with a heart icon.
If you are interested in the Tesco Xtras discount there are a number of conditions and restrictions you should be aware of. I've bullet pointed the most important of these gotchas below:
Only Tesco Mobile pay monthly and SIM only customers qualify
To cover any additional data used by Tesco's ads you will get a bonus 200MB per month
If you are roaming abroad the app will only work via Wi-Fi
The app is only available for Android 4.0 OS or newer smartphones at this time
You can pause or cancel Xtras on your phone any time
You will need to have the Xtras app switched on during 21 days of your billing month and see at least one ad, offer or piece of content on each of those days
Tesco Family members can get a maximum of £15 off per month
Unfortunately, according to Tesco's FAQ, the Xtras app "uses about 4% of your full battery charge".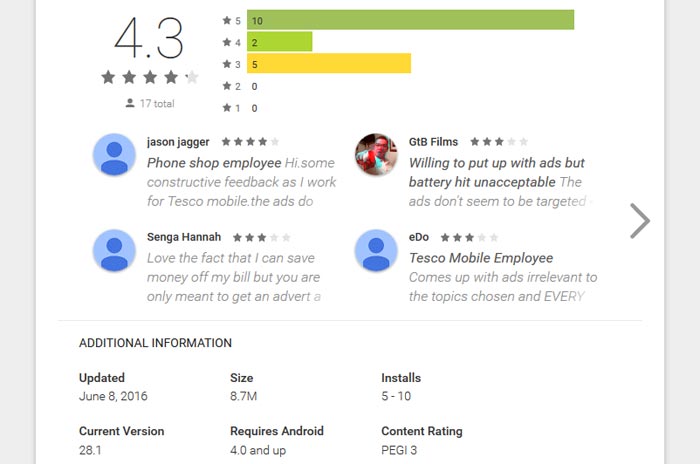 Above you can see that the app is yet to take off
but the review comments and average review score aren't terrible.
Do you think that Tesco is asking too much for too slight a discount? Remember you can get Tesco contract phones such as the Lumia 550, or Moto E 2nd gen, with 250 minutes, 5000 texts and 500MB (+200MB bonus) data for just £7.50 per month. In such a case £3 off is a significant slice.