UK mobile operator EE will has started tests of its so called 4G+ service. The trials have kicked off at Wembley stadium, aided by technology partnerships with both Qualcomm and Huawei. EE is testing a service offering speeds of up to 400Mbps via 'Carrier Aggregation' utilising three different EE spectrum bands. Shortly after the trials 4G+ will launch for EE customers attending the stadium (offering lower 'real-world' speeds of around 150Mbps). The public service switch-on is scheduled for "late March".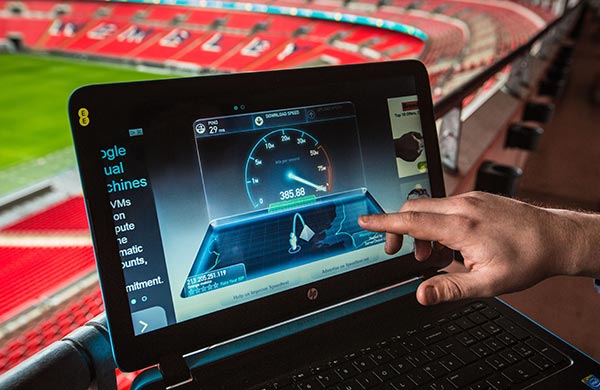 EE intends to make Wembley "the world's most connected stadium," thanks to its deployment of 4G+ at the venue. The trial and subsequent public switch-on should result in a "doubling of mobile data capacity for fans," attending concerts, sporting events and so on.
Talking about the 4G+ launch, Fotis Karonis, CTO at EE, said "Smarter devices with more data intensive video and audio demands are launching all the time, and it's trials like these at Wembley Stadium that allow us to ensure EE customers continue to get the very best experiences from their mobile network now and in the future".
Looking at the technicalities behind the 4G+ mobile service, EE's demo setup used a Qualcomm Snapdragon 810 processor with X10 LTE that combined three different EE spectrum bands to achieve 400Mbps speeds to a single device. The trials included streaming high quality audio-visual content to multiple 4K and HD screens to create an interactive Wembley gig experience.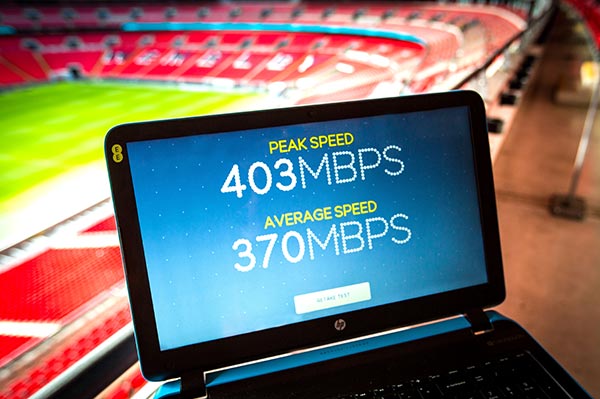 While the trials have demonstrated 4G+ speeds approaching 400Mbps the late March switch-on for the public will offer real-world 4G+ speeds of around 150Mbps. This is because the Carrier Aggregation implementation of the public service offers less bands, just two bands of EE's spectrum are combined (20MHz in each of the 1800MHz and 2.6GHz bands).
However this is still a double speed service improvement, according to EE, and will benefit Wembley attendees with improved speeds to "stream goal replays, check sports apps, upload selfies and share the action on social media".
Earlier this month BT announced that it had agreed definitive terms to acquire EE for £12.5bn.